Key Features of our Pallet Truck Scales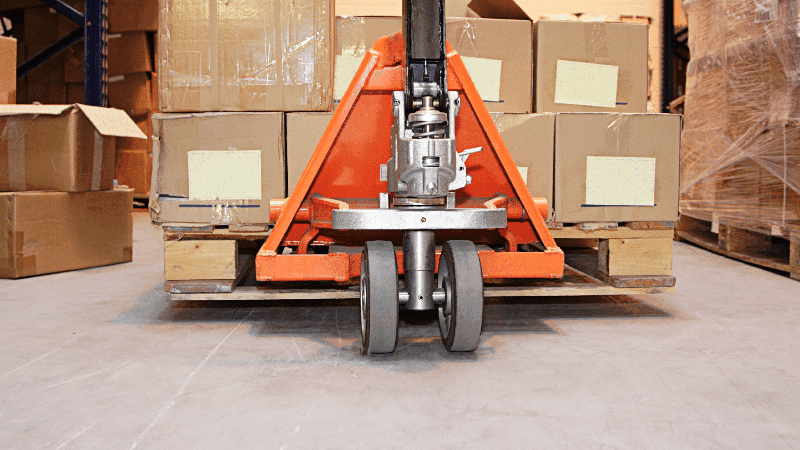 Marsden pallet truck scales have been a popular way to weigh palletised goods in factories and warehouses for years. This month, however, we've launched two brand new pallet truck scales.
The new PT-500 (standard pallet truck scale) and PT-600 (with built in printer) are largely the same as the PT-100 and PT-200 respectively.
But, there are some key differences that make these new pallet truck scales worth considering!

If you have any questions about either of these new scales, or the other pump trucks in our range, just get in touch.
An even better price
Not that we like to lead in with the price of these scales, but everyone in business knows that price is a big factor when you're looking to buy new equipment.
Built to the same robust, hard-wearing standard, our new pallet truck scales over even better value for money: £545+VAT for the PT-500 - £60 cheaper than the PT-100; and £595+VAT for the PT-600 with built in printer, £100 cheaper than the PT-200's price tag.
With these prices, we now believe there's no reason to settle for an inferior pallet truck scale simply to get a lower price.
A much clearer indicator
The indicators on the PT-100 and PT-200 are great - IP67 rated, meaning you can wash them down, and bright red LED displays.
While the PT-500 and PT-600 do not have IP67-rated indicators, they do boast indicators that have a much clearer display for weight readings.
Functions are easier to access, too - seven labelled buttons as opposed to the four on the PT-100 and PT-200.
The indicator on the PT-500 and PT-600 is so clear, it'd be perfectly visible from a long distance, in poor lighting conditions, or by anyone who forgot to bring their glasses to work!
More features for easier weighing
We want to making weighing palletised goods as easy as possible. So, the PT-500 and PT-600 come with more features to make weighing tasks easy.
Accumulation is a standard feature on these pallet truck scales. It means you can weigh multiple pallets and the indicator will add up and total the weights. This is perfect if you're using pallet truck scales to weigh several pallets prior to loading up a lorry. With the PT-600, with its built-in printer, you can even print out a summary of the weights - separate weights for each pallet and then the total weight.
If you're affected by the SOLAS container weighing regulations, this is a great feature if you want to check-weigh goods before getting your proof of weight from a verified weigher.
There's also a hi/lo weight function available, allowing you to set upper or lower weight limits - great if you need your pallets to be a set weight.
Weight readings on either of these scales can be displayed in kg or lb.
Power saving features for a longer battery life
Another new feature for these pallet trucks is programmable auto power-off and screensaver. This means the rechargeable batteries built into these scales will last even longer.
Both power saving features can be set to the time delay you wish, and the user manuals for each scale explain how this can be done. Prolonged battery life means more time between charges!
If you have any questions about the PT-500 or PT-600, or any of the pallet truck scales in the Marsden range, give our team a call on 01709 364296.