M-550 Checks In at Church Lane Surgery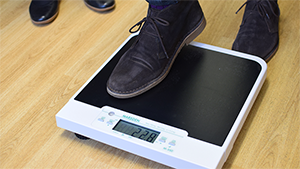 The Marsden M-550 is our lowest priced Class III Approved Floor Scale. Released in summer 2016 after two years in development, it has five times the accuracy of mechanical scales, which in the past had been commonplace in GP surgeries.
The National Legal Metrology Project Report had said that a large number of medical scales were not fit for purpose, so Marsden began working on a highly accurate yet affordable medically approved weighing scale to help solve the problem.
The result, the M-550, is the perfect addition for pharmacies and health centres, but it is GP surgeries with whom it is proving the greatest success, as Church Lane Surgery, Brighouse can testify.
Height adjustable
Helen Pearson, Practice Manager at the West Yorkshire surgery, said: "The Health Care Assistants are really impressed with the M-550 scale.
"They are height adjustable, but are also lower to the ground than the more traditional scales."
Larger foot space
The M-550 has a capacity of 160kg and weighs in increments of 200g. It has a wide weighing platform to accommodate larger patients and to make it easier to stand on.
Helen continued: "The foot space is larger, so if you are weighing a patient with poor balance, it's easier to get them on and off the scales - and they are less likely to feel like they are falling off."
The Hold function is also used for weighing of unsteady patients, as it means the scale can fix onto the patient's weight. Using Hold, the weight will also be displayed after the patient steps off the scale.
Tare and BMI
The Tare function means that any unwanted weight can be removed and BMI can easily be calculated by manually inputting the patient's height.
"The scales are in currently in the consulting room which we use for patients who use a wheelchair," added Helen.
"As the scales are lower to the ground and square in shape, it's been great to use them for these patients."
Watch the video of the M-550 at Church Lane Surgery, Brighouse here.
Find out more about the M-550 here.
Alternatively, view our full range of medical scales. To find out more about Church Lane Surgery, click here.