Patient Transfer Scale

The Patient Transfer Scale is a revolutionary way to weigh time critical or immobile patients in seconds. It is a transfer slide with in-built weighing scale and means patients can be weighed during lateral transfer from trolley to bed, or bed to bed.
The Patient Transfer Scale won the prestigious Queens Award for Innovation in 2021, which is a testament to the innovative design and overall requirement for the device.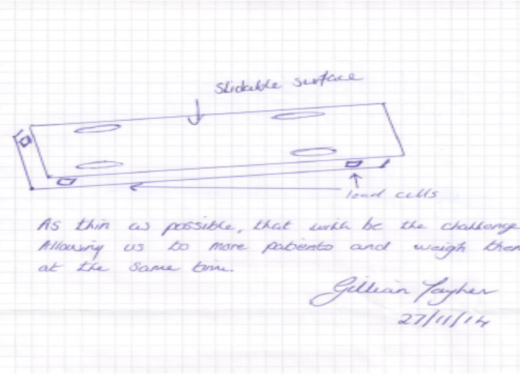 STEP 1
Gillian Has An Idea
The inventor of the Patient Transfer is Registered General Nurse, Gillian Taylor. Gillian had worked within the NHS for over 20 years. During that time she identified the need for a device which not only aids a patient transfer, but that also captures the weight of a patient. This was important not just for patient vitals, but for nutritional scoring and administering medication.
STEP 2
Taking The Idea Forward
After carrying out some initial market research and realising that there was nothing similar on the market, Gillian took the idea forward. With some help, Gillian was put in touch with Marsden to help bring the idea to life. After seeing the initial concept drawings and seeing Gillian's passion for the item, it was easy for Marsden to make the decision to take the idea forward.
STEP 3
Developing The Prototype
In order to gain some invaluable market research with our trusted customers within the NHS, we had to develop a prototype. During this process, there was much discussion and alternations to the design following the advice and opinion of healthcare professionals. Following a 6-month period of gaining insights with our prototype, the decision was made to go ahead and bring the final design to market.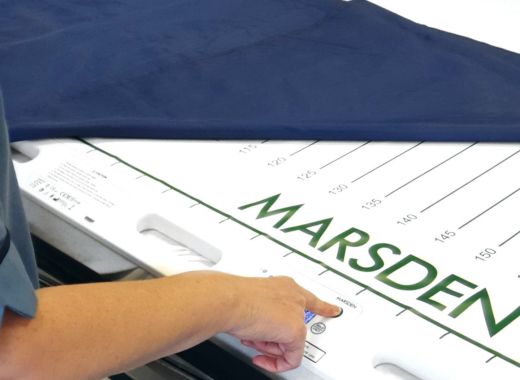 STEP 4
Model In Production
Since bringing the Patient Transfer Scale to launch in late 2018, the device has now become an integral part of any hospital department. The Patient Transfer Scale is now used in over 65% of NHS trusts and has eliminated the need to 'guesstimate' a patient's weight.
INNOVATION AWARD
Queens Award Winner
In 2021, we received the news that the Patient Transfer Scale had won the Queens Award for Enterprise in Innovation.

The Queens Award is a difficult accolade to achieve, however we are proud that out of thousands of applications, the Patient Transfer Scale was selected as one of the fortunate recipients.
HOW TO PURCHASE
The Patient Transfer Scale
If you would like to improve patient outcomes in your department, please contact us today to arrange a demonstration or to request a quotation.
Find out more