The Importance of Accurate, Regular Weight Assessments in Care Homes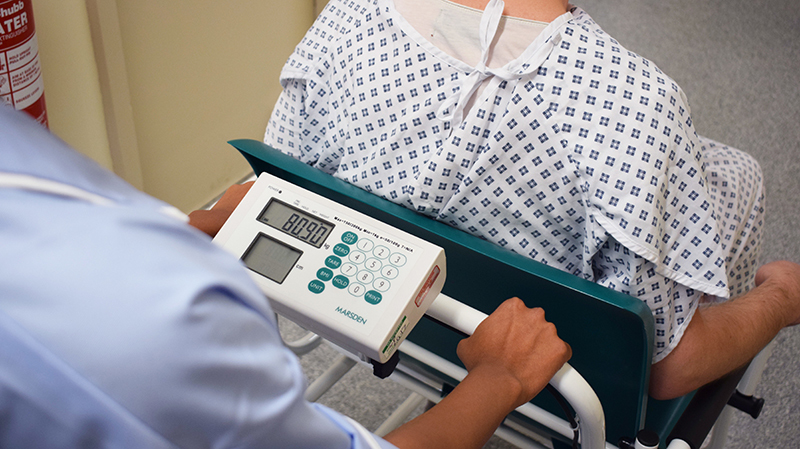 "As a care home it is very important to weigh our residents to keep a check on their weight. As some residents may have a poor appetite which will cause them to lose weight, by weighing them regularly this means that we are aware of the matter and what action to take," said Gemma Storey, Deputy Manager of Chapel View Care Home, Barnsley, South Yorkshire.
In 2006 NICE stated that patients should have their body weight measured weekly, on first contact in an outpatient setting, and when there is clinical concern.
Regular weight assessments in care homes using a suitable, accurate weighing scale are essential. Weight is a fundamental part of nutrition assessment and may be used to calculate drug dosages, as well as assess fluid balance. An accurate recording of body weight is also important when admitting residents, who may require specialist equipment.
Weight loss is also a common problem among care home residents, which can have adverse and costly results. A significant percentage of residents in care homes have a small appetite and are only able to eat small volumes of food at one time. In fact, a study into a geriatric care facility found that 73% of the individuals gained or lost 4.5kg or more in 2 years. Those who lost 4.5kg in the interval had a lower 4-year survival rate than those who gained weight or remained stable.
Another study discovered that 48% (435) of the residents observed had a monthly weight that differed from the previous month's weight by ≥5% over the 7 months; 18% (163) of these residents experienced this more than once.
There are multiple cases like this, and that's why accurate, regular weight assessments in care homes is so important.
In this blog post, we will look into the different areas where an accurate weight is required and the consequences if an accurate weight is not gathered.
Nutrition
Malnutrition is a significant problem. Research from BAPEN has calculated that malnutrition affects at least a third of care home residents. Nearly 40% of those who had come from hospital and 37% from other care homes were malnourished, compared to 30% admitted from their own home. This is especially concerning, as they also discovered that around 10% of care homes did not provide any training for staff on malnutrition screening.
Good nutritional care, adequate hydration and enjoyable mealtimes can dramatically improve the general health and well­being of older people, as well as increasing their resistance to disease and their recovery from any illness, trauma or surgery. Therefore, the early detection of malnutrition is important as it can severely compromise patient recovery if left untreated, and can result in patients staying in hospital significantly longer.
The National Care Standards: Care Homes for Older People recognise that eating well is fundamental to good care and that nutritional status should be assessed and reviewed regularly.
The MUST screening tool is a validated screening tool which is used nationally and implemented in NHS in care homes and hospitals. MUST is a five-step screening tool, which is used to identify adults, who are malnourished, at risk of malnutrition or obese
It's important to note that the MUST screening tool is not foolproof; if you are in doubt about the nutritional status of a resident, you can contact your local community dietitian for advice. It may not be appropriate to use it in some circumstances, such as end of life.
Fluid Balance
Ensuring that residents are well-hydrated goes hand in hand with the nutritional aspect of care. Dehydration can have serious consequences for the health and well-being of elderly residents and can contribute to problems, such as increased confusion, constipation, pressure ulcers, urine infections and falling.
However, in Holyrood's analysis of care homes in Scotland, they found that 34% (102) of care homes were not screening residents for dehydration upon arrival. Further, 15% (46) had not set out in a resident's personal plans how they would make sure a person was drinking enough fluid to stop them becoming dehydrated.
Acute changes in body weight, after imposed fluid restrictions or exercise, is a good indicator of hydration status. Acute Kidney Injury (AKI) is recent damage to the kidneys, which causes them to not work properly. In the UK, up to 100,000 deaths a year are associated with AKI. Monitoring the fluid intake of residents can be beneficial in reducing the risk of AKI in a care home.
Drug Dosages
The appropriate dose of many medications requires an accurate weight. A lack of consistent weight recordings and the use of inaccurate or inappropriate weighing equipment prevents optimal care. This can lead to potential errors in diagnosis, treatment, or medication dosage.
The 5 Rs of medication are often referred to to reduce medication errors and harm:
The Right Patient
The Right Drug
The Right Dose
The Right Route
The Right Time
However, in 2004 the National Care Standards Commission published a report, which highlighted that only 45% of care homes met or exceeded the stated medication standard around safely and accurately administering medicine.
Similarly, a study from the Care Home Use of Medicines (CHUMs) discovered that 178 of the 256 residents observed (69.5%) were subjected to one or more errors in their medicine administration. The mean number per resident was 1.9 errors. The Centre for Policy on Ageing (CPA) looked into this further and calculated that, as errors occurred on 8.4% of medication administration events, a resident receiving medication three times a day would have an 84% chance of receiving at least one error every week. They would also be almost certain (99.9%) likely to receive at least one error every month.
Further, the CHUMS study found that while one half of the errors were 'omissions' (49.1%), more than one fifth (21.6%) resulted from an incorrect dose. CQC also noted in their 'Medicines in health and adult social care' report that they saw poor outcomes for patients as a result of incorrect doses of Gentamicin, due to age and weight not always being taken into account when calculating doses. These instances resulted in kidney and hearing damage.
Barriers to Weighing Residents
For the easiest care experience, a resident's weight should be obtained as soon as possible after admission. If a patient's weight is recorded incorrectly due to an inaccurate weighing device, this can have a negative impact on patient care. Further, it can increase the risk of errors in diagnosis, interventions, treatment or medication dosage, according to the Department of Health, 2010.
According to a study completed in 2009, they found that some nurses did not attach the same importance to weighing patients as they did other routine assessments. In fact, only 50% of nurses routinely weighed patients as part of the admission process or as part of nutritional screening.
One reason given was that staff felt "uncomfortable" suggesting that individuals should be weighed and that, without a good reason, recording a body weight could be perceived as unnecessarily invasive. They also attached little importance to weighing those who were frail, underweight or obese to assess their nutritional needs.
Additionally, an audit of a number of NHS organisations found that weighing equipment in regular use in clinical areas was often incorrectly calibrated or of the wrong type (LACORS, 2008). This is another barrier preventing the accurate weighing of residents as results may be inaccurate and reliable unless weighing scales are routinely checked and calibrated.
Weighing Solutions
The M-250 Chair Scale with Stand Assist
The Marsden M-250 is our revolutionary new chair scale, designed for residents with limited mobility. The seat gently rises and lowers, meaning less risk for healthcare staff when helping patients in and out of the scale. It's perfect for regular weight assessments in care homes, particularly if the resident has limited mobility.
Watch the video below to see it in action, or find out more about the M-250 here.
The Patient Transfer Scale
The Patient Transfer Scale is a transfer slide with a built in weighing scale, which can be used to weigh immobile residents instantly and accurately when they are admitted to a care home.
Watch the video demonstration below or find out more on our website.
Further Reading
Monitoring the weight of care home residents is crucial, which is why we've put together this white paper. Download "Weighing In A Care Home: The Complete Guide" and read it here.
Did you know that one in ten care home staff has forced to turn away an obese person due to a lack of bariatric facilities? Is your care home equipped for bariatric residents? Find out more in this blog post.
Weighing individuals with limited mobility can be a stressful and uncomfortable procedure, for both residents and healthcare staff. So how can weighing patients with limited mobility be made easier?