5 Benefits of printing your weight data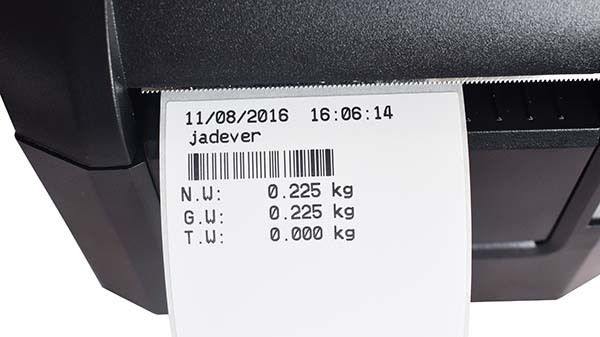 Recording weight readings could save production time, reduce costly errors and improve customer service.

One of the easiest ways to record weight readings from your weighing scale is to connect a printer.
Setting up a sticky label printer with a scale from Marsden is easy and highly affordable, and over time you could you see a real improvements within your business - from effectively tracking consignments to monitoring production quality before items reach your customers.

In this blog post, we explain the key benefits of choosing a weighing scale with a printer.
1. Recording weight on a print-out provides a clear hard copy for your records
Choosing a digital weighing scale with printer saves time because it means that a manual recording of the weight does not need to take place.
The sticky label that printers from Marsden provide is also in an easy to read format which can be attached directly to the product for easy access. Simply press Print on the indicator and the weight reading on the display will be printed.
You can also attach the label to printed records, giving you a clear, dated hard copy of the weight of an item, package or consignment.
2. A printed weight record can help with tracking consignments
The most popular reason for choosing a weighing scale with a printer is for traceability. You can create a sticky label with weight information, consignment number, date and time and then add it to a package or shipment.
This means outgoing shipments can be checked at a glance to ensure they are the correct weight, and that nothing is missing from the consignment. The shipment, once it has left your business, can then be tracked easily if you have recorded the same details on your system/CRM.
3. A printed weight record can help control shipment costs
If you use a third party courier to get your goods to your customers, you will typically be charged by the weight. Ensure you're aware of your consignment weights, and the subsequent costs for shipping, by recording weight on a sticky label and attaching it to the goods.
You can label up all out-going shipments in the despatch areas with weight, consignment number - even destination - and this will make it easier for couriers when they come to collect your goods.
Providing at a glance information on consignment weight will allow you to better control expected costs associated with shipping your goods.
4. A printed weight record could reduce errors
By printing the weight reading directly from the scale, the potential for human error associated with making a note of the reading could be reduced.
The digital print out is easy to read, and therefore there is minimal chance of the reading being misinterpreted. It can be printed out more than once should different areas of the production process need to know the reading, and because with some scales a barcode can be printed, the goods the label is printed for can be directed linked to a record in your database.
Readings can also be easily compared to previous weight results to ensure product consistency.
Tomohiro of the Japan Centre said choosing a printer option with the scale can help all staff. "It has made a difference to us," he said. "The scale prevents overloading and also our staff know how heavy the cage is."
5. A printed weight record can help customers understand what they're getting
With a label on a consignment or package detailing product type, weight and despatch date, customers know what they're getting. At a glance, they can see exactly what the consignment is, and if they've purchased based on weight, know they're getting what they paid for.
You can tailor your print out to the needs of your business or your customers, to feature a barcode, company name, product name, date, time and weight.
Scales for printing weight data
The following scales can be ordered with a printer. Alternatively they can be connected to a PC for an instant electronic record of the weight results (the first two examples) or can export data to a USB memory stick.
Mild Steel Platform with the JIK indicator: For weighing heavy duty warehouse goods, this platform with an optional printer is ideal. A choice of base sizes, capacities and graduations mean you can tailor the scale to the size of item you are weighing.
MSS Bench Scale with the JIK indicator: A bench scale is ideal for weighing smaller goods on a work, with fine graduations for pinpoint weighing. This scale is Trade Approved meaning legally it can be used for pricing goods based on weight.
Drive Thru Scale with the JIK indicator: The JIK indicator is an easy to use touchscreen indicator - with a choice of optional printers for printing and recording weight. Drive thru scales are perfect for despatch areas, with low profile ramps for easy loading via pallet truck.
To view our our buyers guide for scales for printing, take a look here or call Marsden on 01709 364296. Alternatively, watch the video below.