Buyer's Guide: Baby Scales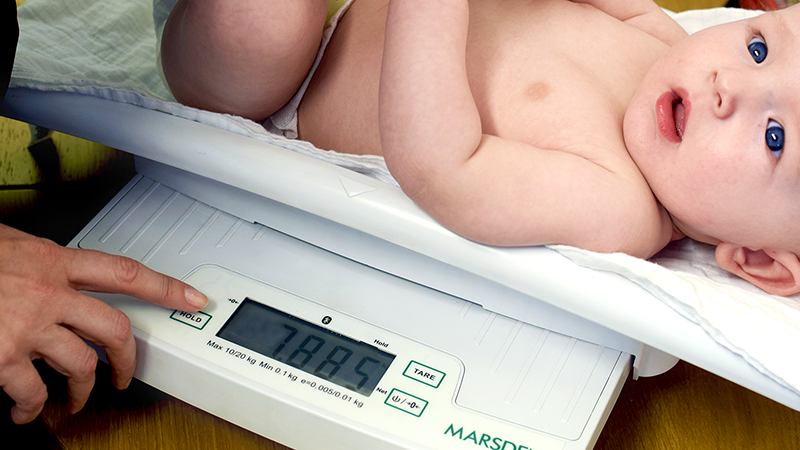 Baby weighing scales are a vital component in monitoring the health of babies throughout their development.
It is recommended that a baby is weighed at least once a week to help identify any health problems that could emerge later on.
The type of baby weighing scale required is likely to vary depending on your needs.
With ninety years of experience in weighing, here at Marsden Weighing Group we feel we are best placed to advise you on selecting the best baby scale; whether it is for midwives, baby clinics or for hospital use.
This guide is for professional baby scales. Please take a look here for the buyer's guide for baby scales for home use.
For portable use
Being able to transport baby scales from place-to-place definitely comes in handy for midwives and health visitors, who are looking for something lightweight and easy to carry around with them.
The Marsden M-310 is a great value sling scale which is ultra-lightweight and easy to use. Perfect for babies up to a year old it is used extensively by health visitors and midwives, with accuracy to 10g. The optional carry case makes it very portable.
Midwives and health visitors can also benefit from a sturdier, more robust weighing solution.
The M-300 is a Class III Approved, one-piece baby scale which has very high accuracy to 2g. A carry case is available for the M-300, and it's robust, too - making it a popular choice.
The scale features Hold and Tare. The Hold function means that the weight is stabilised on the large, clear weight display even after the baby leaves the scale and the Tare function allows any unwanted weight to be removed, such as a towel or blanket – plus it has 600 hours of battery life.
For hospital use
Many hospitals go for the M-300 as ideal baby scales, in most cases also going for the 903 trolley to transport the scale between wards.
Another option is Marsden's M-400 Baby Scale, a compact and robust and 15kg-capacity, 2g accuracy floor scale, which again features a slide on-off weighing pan for babies.
The M-400-80D is identical but adds a digital height rod allowing you to measure the height or length of the baby at the same time as weighing them. The M-410 is a 50kg version of the M-400, meaning older children can stand on the scale and giving hospitals a more versatile alternative. Accuracy is only to 10g, however.
Alternatively, Marsden also offers the perfect all-in-one solution for babies, toddlers and adults.
The Marsden M-700 is a Class III Approved 3-in-1 baby, toddler and adult scale with handrails, seat and removable baby bowl. The scale is perfect for use in surgeries and mother-and-baby clinics, it is has high capacity and its features include measuring BMI.
All of the professional baby scales listed above are Class III Approved, and therefore suitable for medical use.
We do have a small selection of baby scales suitable for home use, for those wanting to keep track of their child's weight at home.