Buyer's Guide: Scales for Bulk Counting Tasks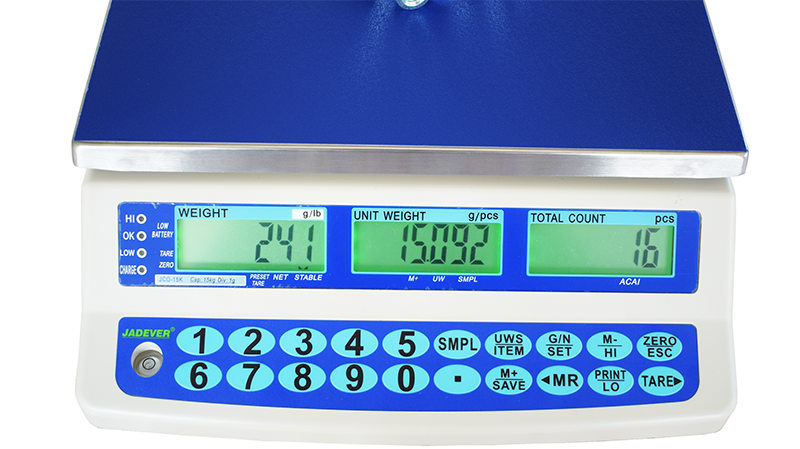 Inventory control, accurate shipments, value for money and reduced wastage: These are all benefits that counting scales bring to a business.

Counting scales make counting of multiple items much faster, and can be much more accurate than counting items by hand.
A typical job for a counting scale is counting small items of identical weight, like nuts and bolts.
However, some companies have scaled this up and now use much higher capacity counting scales for bulk counting tasks. That means even greater control of stock and shipments, even faster processes and even more money saved.
How do counting scales work?
Counting scales allow the user to instantly count multiple items or parts of the same weight. Those tasks where items are traditionally counted by hand are very time consuming, and are always prone to error. A counting scale speeds up this process by counting items instantly as soon as they are placed on the scale.
To begin, you simply put a sample of your product on the scale and key in the number of pieces in the sample. The scale will then divide the total weight of the sample by the quantity you have entered to leave an approximate weight per piece. When further items are added, this weight per piece can work out subsequent piece counts.
How can bulk counting scales help your business?
Using a weighing scale for bulk counting can help save time and reduce, or even eliminate, inaccuracies.
Counting out products by hand is likely to take far longer than using a weighing scale - it means that the good can reach dispatch areas sooner and means more items can be counted in a set time period.
Less time spent on counting processes and inventory control means money is saved. Of course, the bigger the counting task, the more money can be saved by automating the process with counting scales.
One Marsden customer has a bulk counting scale situated at the end of a production line of large industrial tubing. The tubes are carried on conveyor and onto the scale. The scale counts the number of tubes landing on the scale and therefore knows when a predefined quantity is reached, alerting staff so that they know that batch is complete and a new one can be started. This automated process means the scale can be unmanned, a massive saving on labour costs.
What are the best scales for bulk counting tasks?
Marsden has a large choice of counting scales, with many perfect for bulk counting tasks.
Many weighing scales have a Counting function, but the greatest benefits will be gained from scales that are purely counting scales. Therefore, for bulk counting tasks, Marsden recommends scales that have the Jadever JWI indicator fitted.
The JWI indicator features 3-in-1 LCD displays and a bright LED backlight which is suitable for most environments. It has Tare, Preset Tare and auto-zero tracking available. A hi/lo alarm prevents overloading and also alerts staff - just like with the Radius Systems example - when a predefined target quantity is reached.
Does your bulk counting scale need to be portable?
If you need to complete bulk counting tasks - either counting large items or many smaller items - but he scale needs to be used in many different locations, choose the PB-1200-JWI-NA or the UF-1200-JWI-NA.
The PB-1200-JWI-NA is a set of weighbeams fitted with the JWI indicator. The beauty of beam scales is that they can be positioned the desired distance apart to weigh items of any size. They are extremely portable, with handles and wheels fitted to each beam. This means they can be easily moved around your premises, or even transported in a van or lorry cab.
The UF-1200-JWI-NA is a U frame scale fitted with the JWI indicator. It is lightweight and features built in handles and wheels, meaning it is easy to move around a warehouse or depot. U frame scales are designed for easy weighing of pallets, and perfect if you use pallet trucks as the width of the U frame forks will accommodate almost any pallet truck.
Do you not have enough space for a counting scale?
Need to complete bulk counting tasks but lack the space for a large counting scale? Choose the PD-NA-JWI. This is a pit mounted parts counting platform scale, and because it is mounted in the floor of your factory of warehouse it won't get in the way. A pit mounted scale can be left in situ even when not in use, and loading it is easy - by fork truck, pallet truck or even as part of a production line.
Do you simply need a versatile, heavy duty bulk counting scale?
Alternatively, you can get real value for money with a standard bulk counting scale in the form of the P-NA-JWI Parts Counting Platform Scale or the DT-JWI Drive Thru Parts Counting Scale.
The P-NA-JWI is a solid, reliable, high capacity mild steel platform scale, built for parts counting. These scales are strong, durable and convenient for counting palletised items, and can be loaded using a fork truck. The P-NA-JWI has a 3000kg capacity.
The DT-JWI is a drive thru scale ideal for counting palletised items. Their shallow incline makes it very easy to roll pallet trucks onto the scale, get an instant count result and then roll the pallet truck back off. This drive thru has a choice of capacities up to 1500kg.
Can't find the right counting scale?
Counting scales work best when they are an integral part of a wider process. To this end we find many customers opt for bulk counting scales are part of, or at the end of, production lines.
If you have a specific requirement for a counting scale and feel our 'off the shelf' options don't quite fit the bill, speak to our team about bespoke counting scales.
To find out more about the JWI indicator and scales for bulk counting tasks, you can call Marsden on 01709 364296 or contact us here. More information about streamlining your processes, as well as reducing production waste, by using counting scales can be found in this white paper.