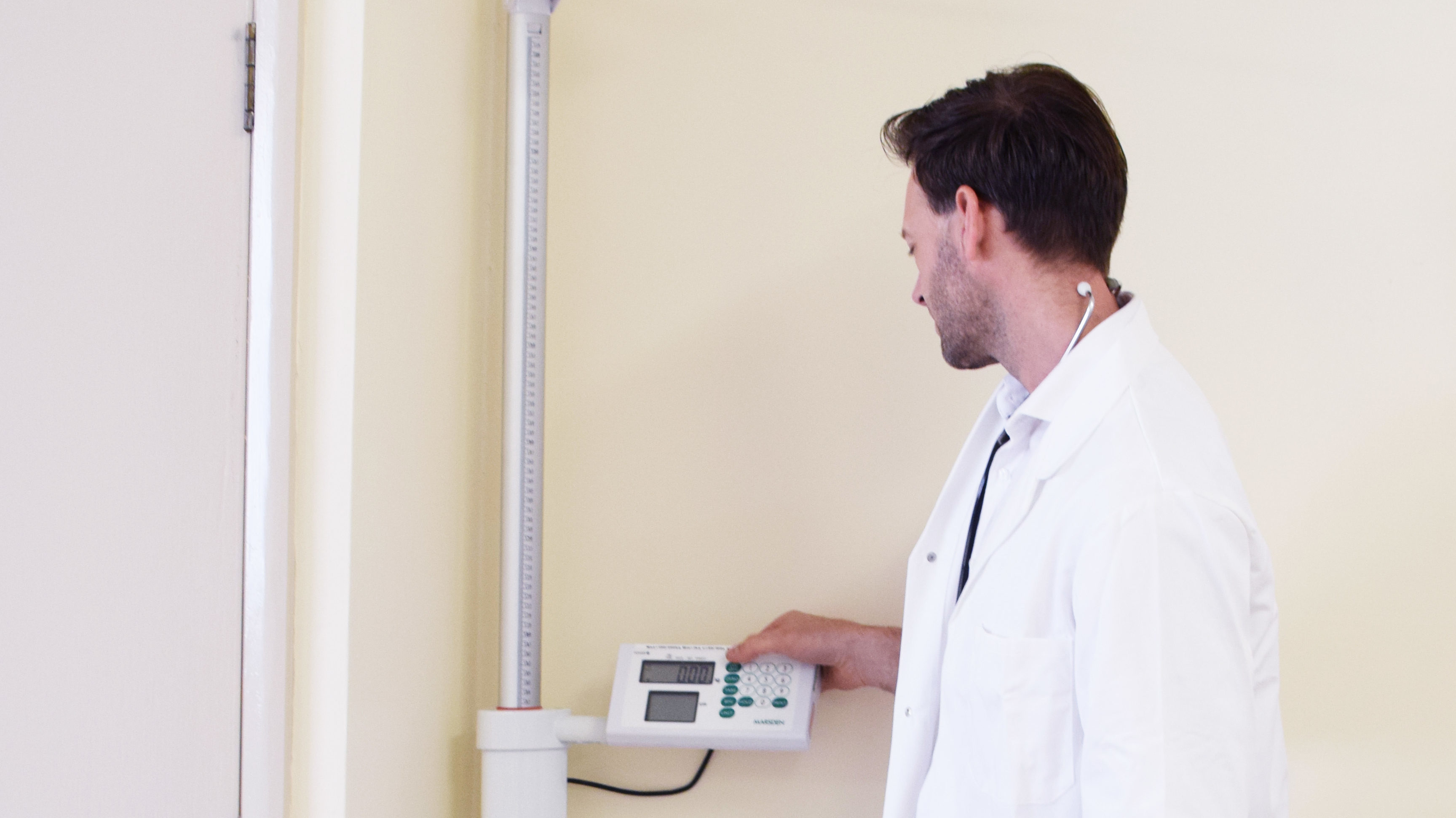 GPs use weighing scales every day to make thousands of potentially life-saving decisions.

The National Legal Metrology Project report of 2015 recommended that GPs spend more money on fewer, more reliable medical scales - rather than lots of scales that are unreliable.

Weighing scales used in GP surgeries should be Class III Approved - with digital scales far more reliable than their mechanical counterparts.
Marsden's range of medical scales are known for their accuracy and reliability - that is what has made us the leading provider of weighing scales to NHS hospitals. GPs can follow this buyers' guide to find out which scales are ideal for GP surgeries.
Every GP surgery is different, catering for a different demographic each with different needs. Therefore there is no one-size-fits-all solution for GP surgeries. Column scales, floor scales, baby scales and chair scales are all suitable GP scales.
Column scales
With a column-mounted indicator, these types of scales are perfect for patients who are unable to bend down. The M-100, M-110 and M-125 feature an optional height measure for easy BMI calculations.
The Marsden M-100: This is a premium Class III column scale with a high 300kg capacity and graduations to the nearest 50g. Its unique 'corner' design means it takes up less space in a waiting room or consulting room - a key reason why many GPs choose this scale.
The Marsden M-110: This is another premium column scale. It has a 250kg capacity and graduations to 100g. Choose from a choice of optional height measure - manual, digital and automatic.
The Marsden M-125: This is a brand new column scale which features BMI, Hold and Tare functions. The scale also has a Body Surface Area (BSA) calculation function, which is unique to Marsden scales. 6x AA batteries provide 180 hours of use.
View all of our column scales here.
Floor scales
Marsden floor scales are a popular weighing solution for GPs because they are robust, lightweight and many are built for portability between consulting rooms.
The Marsden M-420: This is a Class III Approved, lightweight and portable floor scale. It is highly accurate, with graduations to the nearest 50g. The scale has a tap-on function so can be switched on without the need of bending down. Marsden has also launched a white version of this scale, which is designed for patients with dementia.
The Marsden M-425: This Floor Scale has a 220kg capacity and graduations to 50g. This scale's USP is the remote display, which means weight readings can be kept private from other patients in the surgery.
The Marsden M-550: This scale has proved popular with GPs since it was launched in 2016. The scale is Marsden's most affordable Class III Approved scale - and it is five times more accurate than traditional mechanical alternatives.
View all of our Floor Scales here.
Baby scales
Marsden's range of baby scales are highly accurate weighing solutions. We also provide solutions for toddlers and younger children.
The Marsden M-300: This is a portable, Class III Approved, one piece baby scale. It is highly accurate to 2g graduations and battery power provides for 600 hours of use.
The Marsden M-400: This baby scale features a slide on/off weighing pan. If older children wish to be weighed stood on the scale, the pan can slide off to reveal a step-on floor scale.
View all of our professional baby scales here.
Chair scales
For patients who need to be seated when weighed, a chair scale is ideal.
The Marsden M-200: This chair scale has a high 300kg capacity as well as a super-sized seat, meaning it is suitable for weighing bariatric patients. For safety and comfort it is fitted with brakes, footrests and armrests.
View all of our chair scales here.
The all-rounder
The Marsden M-700: This scale is the perfect all-round solution with handrails, a seat and a removable baby tray. For weighing babies and toddlers it has a 20g accuracy and for adults graduations are to 50g. A printer is available to keep a record of weight readings.
For more information about any of our scales for GP surgeries call 01709 364296 or contact us here.