How to Use a Contactless Infrared Thermometer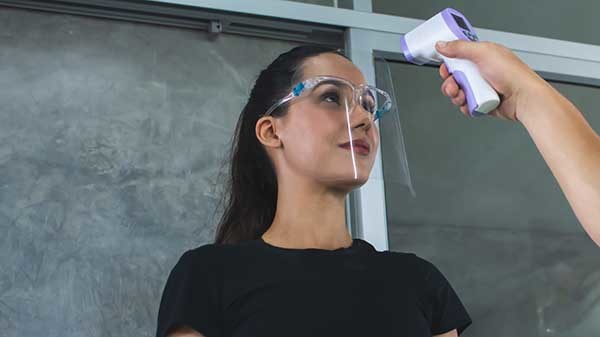 Contactless Infrared Thermometers are one of the quickest and most effective ways to take a person's temperature.

In this blog post, we provide the ultimate guide on how to use a contactless infrared thermometer, including the benefits of temperature screening during the coronavirus pandemic and how to ensure an accurate reading.
What Is a Contactless Infrared Thermometer?
Non-contact infrared thermometers use infrared technology to measure a person's thermal radiation without any physical contact. They are often gun-shaped and, when pointed at a person or object from a distance, emit a laser to help find a specific point to measure. The thermometer then shows an accurate surface temperature reading on the display screen.
The Benefits of Contactless Infrared Thermometers
As the name suggests, contactless infrared thermometers do not require physical contact in order to take a temperature reading. The simple point and press process is ideal for minimising the risk of transmission of COVID-19 and other viruses.
According to the WHO, high-temperature reading is one of the first recognised symptoms of coronavirus. Non-contact infrared thermometers are easy to clean and disinfect, but, as they require no contact, it isn't necessary to clean after each use. This means they can be used to screen a large number of people and be used as an early detection tool. The UK has seen offices, airports, ports, schools and shops introduce this preventative technology in response to the coronavirus pandemic.
Our new Marsden T-210 automatic wall-mounted thermometer is an ideal and cost-effective solution for checking the temperature of your employees, customers or patients and ensuring their health and safety before entering the building.
It can be wall-mounted, too, meaning a member of staff is not needed to take temperature. An individual simply needs to approach the device, and their temperature is taken. The device provides a quick and highly accurate temperature reading within 0.2°C. This can help to prevent the spread of coronavirus by identifying someone who may be carrying the virus before it makes its way around the workforce, affecting the health of your staff and the businesses ability to continue operations.
Infrared thermometers are able to take a temperature reading quickly; our Marsden T-110 Infrared Ear & Forehead Thermometer and T-100 Infrared Forehead Thermometer provide a digital reading within one second. They alert users with audible beeps if the temperature reading is high. During the current coronavirus pandemic, people who receive a body temperature reading over the normal temperature of 37°C should self-isolate.
As well as being quick, effective and easy-to-use, contactless forehead thermometers are also non-intrusive ideal for taking the temperature of young children and patients who experience sensory issues. During these unprecedented times, contactless temperature checks can also provide people with a sense of protection too and can help to put their mind at ease.
Using a Medical Devices Directive (MDD) Approved Thermometer
A Medical Devices Directive (MDD) Approved thermometer can be used for medical purposes in a medical setting. Even if you're not using a thermometer in such a setting, using an MDD Approved thermometer provides you with the assurance that you're using a device that's accurate and reliable, and used by medical professionals.
Marsden's range of thermometers are MDD Approved, however they are still suitable for everyday use, and do not require special training to use.
How to Take an Accurate Temperature Reading
Using handheld infrared thermometers makes it possible to take an accurate temperature reading anywhere, including at home or work. To take a reading, point the thermometer at the person's forehead, ensuring they remain still for two seconds for best results, and then press and hold the button. You will then receive a clear temperature reading, in °C or °F displayed on the screen.
To ensure an accurate temperature reading, you should avoid exposing the digital infrared thermometers to magnetic fields from devices such as mobile phones. You should also avoid using the thermometer in damp or humid conditions. When entering a new environment, it is best to let the thermometer adjust to the room 30 minutes before taking a reading.
As well as a range of Marsden digital non-contact thermometers, we also offer an accurate and easy to use Oximeter with alarm. This fingertip pulse oximeter measures pulse oxygen saturation (Sp02), pulse rate and perfusion and can also help to detect the symptoms of COVID-19 by identifying a dangerously low blood oxygen level reading of below 90%.
For more information regarding any of our non-contact thermometers and oximeters, please call our Marsden experts on +44 (0) 1709 364 296, or complete our online contact form.
Further reading
Discover why temperature screening can help protect care home residents during the coronavirus pandemic and beyond.
Companies such as Cadburys and Amazon have introduced employee temperature checks as a preventative measure. For more information on the early detection of coronavirus in the workplace, take a look at these 5 benefits of temperature screening for businesses and why our new wall-mounted thermometer is perfect for businesses with large workforces.
With schools open once again, read our blog post 4 reasons why temperature checks will help schools return.