The Weights of Famous Bodybuilders in Their Prime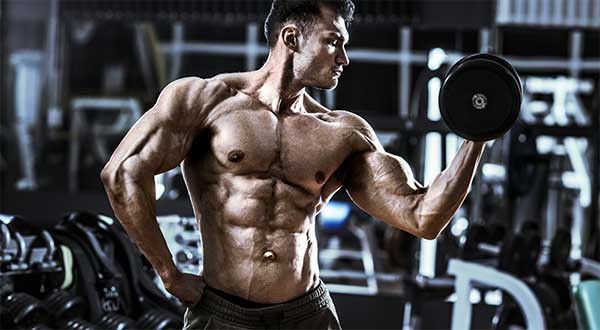 Many of us workout these days, whether it's hitting the gym for an hour in the evening, taking a brisk stroll around the park on a Sunday morning or playing sport with friends.

However, few of us decide to transform our bodies quite like the Arnold Schwarzenegger's and Lou Ferrigno's of this world.
Bodybuilders commit their lives to years of intense training and sculpting to create an ideal physique and build their muscles to be as large and defined as possible. There's big, and then there is BIG!
Check out our list of famous male bodybuilders from across the globe, and their heaviest competition weights during their prime.


Lou Ferrigno
Best Showing: 1993 Olympia (10th)
Born: November 9th, 1951
Height: 6'5
Weight: 275lbs
325lbs at 1992 Mr Olympia (12th)
No list of famous bodybuilders would be complete without including Lou Ferrigno. A professional bodybuilder from Brooklyn New York, he became a household name after taking on the role of The Incredible Hulk on the 1977 TV series.
Lou began training at the age of 12 and went on to become the youngest (and tallest) man ever to win the IFBB Mr Universe competition... twice! He made a comeback to bodybuilding in 1992 aged 41.


Roelly Winklaar
Best Showing: 2018 Olympia (3rd)
Born: June 22, 1977
Height: 5'8
Weight: 265lbs
Unlike other famous bodybuilders on this list, Roelly Winklaar is only just in his prime and yet to reach his competitive peak.
In 2009, he came first at the NPC Arnold Amateur Championships and has been going strong since, aiming to be the biggest and best to do it.


Arnold Schwarzenegger
Best Showing: 1974 Olympia (1st)
Born: July 30, 1947
Height: 6'2
Weight: 250lb
The most famous bodybuilder in the world, Austrian-born Arnold Schwarzenegger is a household name and sporting champion. Arnie was the youngest competitor to win the Mr Universe title at the age of 20 and has since gained countless titles including winning Mr.Olympia seven times!
Arnie went on to conquer Hollywood with famous roles in The Terminator, Predator, and Kindergarten Cop to name a few. After a successful career in both bodybuilding and acting, he then went on to become the 38th Governor of California in 2003.


Markus Ruhl
Best Showing: 2004 Olympia (5th)
Born: February 22, 1972
Height: 5'10
Weight: 285lbs
Always the crowd pleaser, German bodybuilder Markus Ruhl was in great shape during his prime. After starting to lift in his twenties, he went on to wow the bodybuilding community with his incredible mass.


Ronnie Coleman
Best Showing: 2003 Olympia (1st)
Born: May 13th, 1964
Height: 5'11
Weight: 296lbs
One of the hardest working bodybuilders in the game, Ronnie Coleman took on his famous 800-pound deadlifts and squats with ease and his signature catchphrases including 'lightweight, baby' and 'ain't nothin' but a peanut!'.
An eight-time Mr Olympia, Ronnie announced his retirement in 2007 having established himself as one of the biggest and best bodybuilders ever to compete.


Tony Atlas
Best Showing: Mr USA 1990 (1st)
Born: April 23rd, 1954
Height: 6'2
Weight: 260lb
Anthony White is a professional bodybuilder, powerlifter and wrestler best known by his ring name Tony Atlas. Although best known as a pioneer of American wrestling, Tony Atlas also earned the Mr USA bodybuilding title an impressive three times and amazed the crowds with his height and weight.


Flex Wheeler
Best Showing: 1993 Olympia (2nd)
Born: August 23rd, 1965
Height: 5'9 1/2
Weight: 240lbs
American Kenneth Wheeler, known famously as 'Flex', has been bringing home the competition wins since 1993 and even achieved the triple crown winning the Ironman, Arnold Classic and San Jose Classic titles in 1997.
Flex is also often referred to as 'The Sultan of Symmetry' due to his huge, perfectly formed physique during his prime.


Dorian Yates
Best Showing: 1995 Olympia (1st)
Born: April 19th, 1962
Height: 5'10
Weight: 270lbs
Dorian Yates may not have possessed the aesthetic shape and symmetry of Lee Haney or the star quality of Arnold Schwarzenegger, but in his prime, his weight was most impressive.
In 1993, Dorian stepped on stage as the heaviest Mr Olympia to date and continued to grow each year.


Lee Haney
Best Showing: 1989 Olympia 1st
Born: November 11th, 1959
Height: 5'11
Weight: 250lbs
Lee Haney won the prestigious Mr.Olympia competition a mind-blowing eight times in a row while competing in his prime, even beating Schwarzenegger's seven-title streak.
One of the biggest names in bodybuilding during the 1980s, Lee Haney has since taken a step back from fame and runs two fitness centres and a non-profit retreat facility for children.


Phil Heath
Best Showing: 2011 Olympia (1st)
Born: December 18th, 1979
Height: 5'9
Weight: 240lbs
Nicknamed 'The Gift', Phil Heath played basketball at the University of Denver before embarking on his next challenge and joining the world of bodybuilding in 2002. After winning his first competition, The Rocky Mountain NPC USA Championship, Phil continued to train hard, build muscle and get even bigger.
He has gained a number of titles including his IFBB Pro Card and is now a seven-time Mr.Olympia winner competing every year from 2011 to 2017.


Looking to track your body mass?
At Marsden Weighing, we sell a wide range of Gym & Fitness scales ideal for recording your weight during training and working towards your goals including Fat Mass and BMI.
Further Reading
Want to know more about typical body fat percentages for professionals? Find out the typical body fat percentage for a range of different sporting athletes here.
If you're training or trying to lose weight, one of the biggest mistakes can be to weight yourself too often. Read this blog post to find out how often you should weigh yourself.
If you enjoyed this post, you might also be interested in the Olympic World Weightlifting Records.