Do grandparents contribute to a child's weight gain?
Whether grandchildren are being spoilt by grandparents by indulging them with unhealthy food has long been a cause of friction between families.

Now evidence has found that childhood obesity is more likely to occur in children that are cared for by grandparents.
An increasing number of grandparents now provide regular childcare for their grandchildren, according to this Age UK article.
But how can grandparents have an adverse effect on a child's weight, what can be done and how can baby scales and scales for children help? Marsden investigates.
The research
Following the results of a previous study into whether grandparents who provide informal childcare may impact weight, diet and physical activity levels - the latest research into indulgent grandparents was carried out by Scottish researchers who investigated 56 studies from 18 different countries.
The findings
44% of children are now regularly cared for by grandparents, with children spending an average of 10 hours a week with them.
The review found that grandparents were often having a negative impact on their grandchildren's health, especially in areas of weight and diet, through 'treating', 'overfeeding' and not encouraging physical activity.
12 of 17 studies found an adverse effect on children's weight, or a mixture of adverse and no effects.
"Behaviour such as exposure to smoking and regularly treating children increases cancer risks as children grow into adulthood," said lead author Dr Stephanie Chambers.
In response to the findings, the National Obesity Forum has said that grandparents "bring out the biscuits at the slightest hint of a tantrum" and are unable to resist "manipulative and increasingly savvy grandchildren."
What can be done?
Lucy Peake, Chief Executive of Grandparents Plus, said: "We know that children benefit enormously from having close relationships with their grandparents right through childhood into adolescence.
"Grandparents are the largest provider of informal childcare, and allow millions of parents to stay in work by stepping in to help out. What this study shows is that the role they're playing in children's lives needs to be better recognised and supported.
"Grandparents want the best for their grandchildren and the more they're informed and enabled to play a positive role in their grandchildren's lives, the better things will be."
Dr Chambers added, "Currently grandparents are not the focus of public health messaging targeted at parents and in light of the evidence from this study, perhaps this is something that needs to change given the prominent role grandparents play in the lives of children."
How can baby scales help?
A baby scale for home is perfect for grandchildren in order to ensure the child is a healthy weight. Experts recommend that babies are weighed once a month for the first six months and every two months thereafter.
Using baby scales at home will give parents peace of mind, as it will allow them to track their child's weight regularly and conveniently.
BAS-200: This portable baby and toddler scale has a 20kg capacity and accuracy to 5g. It is lightweight for easy transportation around the home. A memory recall function means you can compare the baby's weight to previous weigh-ins.
BAS-250: This baby weighing scale has a 25kg capacity and accuracy to 10g. It is powered by 2x AAA batteries and also features a height measure.
BAS-100HM: The BAS-100HM has a 20kg capacity is accurate to 5g. The 70cm height measure allows you to see the length of your baby in 1mm increments. The scale can measure in kg/g or lb/oz.
M-410: A Class III Approved, professional medical scale solution. The M-410 Baby Scale is ideal for toddlers and older children. This features a slide on/off tray for babies and has a weighing platform situated underneath for toddlers to stand on. The scale has a 50kg capacity, and is commonly used in GP surgeries, hospitals and clinics. Therefore, you know that the accuracy of your scale is equivalent to that of baby scales used by medical professionals.
To find out how much your child should weigh up to 36 months, save it below.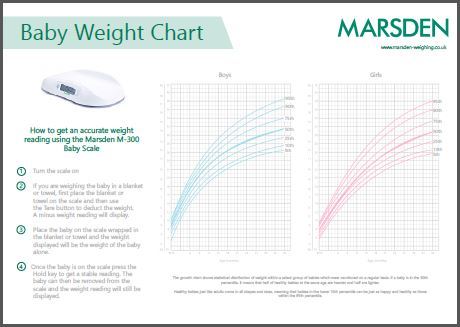 Browse our baby scales for home here. For our full range of baby scales click here. For more information on any Marsden baby/child scale, call 01709 364296 or contact us here.