A Guide to Industrial Platform Scales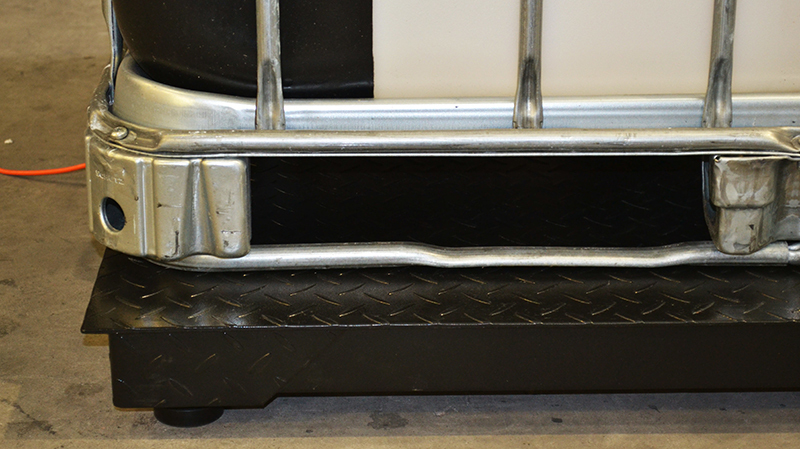 Integrating the use of industrial platform scales into your operation can have many benefits. Suitable for a range of industries, platform scales can be used to weigh stock, parts and materials throughout the working day, increase productivity and improve workflow.

Whether your business requires you to provide proof of the weight of your products for transportation or to check that all outgoing items are the correct quality and amount, platform scales prove effective and accurate with a range of capacities.
What Is an Industrial Platform Scale?
Platform scales are ideal for heavy duty weighing and are used in a wide range of industries. Their strength, durability and size make them ideal for constantly weighing bulky, large and heavy items.
Industrial platform scales consist of either a mild steel or stainless steel platform fitted with high capacity loadcells connected to an indicator that displays the weight reading, and are particularly effective at weighing palletised goods in warehouse, factory and distribution centres.
The Benefits of Platform Scales
Platform scales can be used in a wide range of industries and have many different uses. Take a look at some of the benefits of using platform scales.
Versatility
From a manufacturing warehouse to a brewery, the strong and durable construction and high capacity of platform scales mean they can be used across a range of industries. Aside from weighing goods, when paired with an indicator with a counting function, industrial platform scales can be used for counting and totalising multiple items.
Keeping Records
For businesses that have a lot of stock or require detailed inventory management, some platform scales can be used with compatible printers and computer systems to keep a record of data.
Many platform scales are available with outputs such as USB, that allows data to be sent to a printer or PC and populate the necessary spreadsheets or software.
Increased Productivity
Industrial platform scales can help to make the heavy duty weighing process at your business much quicker and easier. Using a platform scale can help to increase productivity by ensuring quality control and meeting regulations. User-friendly platform scales can also improve workflow, especially the use of drive-thru or pit-mounted scales, by saving time and therefore, money.
Introducing reliable and accurate equipment to your industrial process as well as taking out a Marsden Service & Calibration contract will provide peace of mind to both you and your employees and improve productivity.
Choosing a Suitable Platform Scale
At Marsden, we offer a wide selection of durable platform scales for industrial use. Our easy to use, digital platform scales are available in various sizes, graduations and capacities of up to 5 tonnes.
Our range includes standard mild steel platform scales perfect for quick, easy and efficient check weighing of pallet-sized goods.
If your business relies on accurate weight measurements to determine the price of goods, then our Trade Approved mild steel platform scales may be the most suitable option. We also offer Trade Approved and non approved heavy duty mild steel platform scales with 5-tonne capacity.
For weighing in damp, humid or dusty environments, you may consider our easy to clean IP-certified, stainless steel platform scales.
What are Trade Approved Platform Scales?
Also known as legal-for-trade scales, Trade Approved scales are tested and approved for obtaining the weight of goods to determine a price. For some businesses, it is a legal requirement by Weights & Measures legislation to use Trade Approved scales when buying or selling items.
Using Trade Approved platform scales protects both the customer and seller when trading, as they ensure that the correct price for an item is quoted as it is based on the weight reading.
Marsden Drive-Thru Scales
Items can be easily loaded onto standard platform scales using a forklift truck and ramps can also be purchased. However, at Marsden, we also offer an even more convenient option. Our innovative drive-thru platform scales are designed to allow pallet trucks to roll on and off with ease for even faster weighing.
Our Marsden Mild Steel Drive-Thru Platform Scale has an anti-slip durbar surface, low profile ramps and a long battery life of 40 hours of continuous use, making it ideal for all warehouse and factory environments.
A stainless steel version is also available for a more robust version that can withstand harsh environments.
Industrial Platform Scales from Marsden
Purchase industrial platform scales and drive-thru scales from Marsden before 1pm today and receive next-day delivery!
Our Mild Steel Platform Scale is designed for weighing pallets, although available in different dimensions, and is ideal for the check or bulk weighing of heavy-duty items boasting a bright LED display for clear and instant results even in poor lighting decisions.
For the easy recording of weighing results and automatic printing and saving, consider the Marsden JIK indicator for a Trade Approved version of Stainless Steel Platform Scale.
We also offer an impressive 5-tonne capacity for check weighing heavy pallets, roll cages and dolavs in a demanding environment.
As well as reliable platform scales, we also offer a range of weigh beams ideal for weighing large or abnormally shaped goods or items and U-frame scales, which are portable and specifically for weighing pallets.
Further Reading
If you're looking for ways to improve productivity and efficiency at your business, then take a look at these four benefits of an industrial platform scale.
Using an unsuitable industry scale can result in a £1000 fine, take a look at why breweries should use Trade Approved scales.
Discover why you should use Trade Approved scales, even when you're not pricing goods on weight.