Lewes FC track player fitness with the Marsden MBF-6010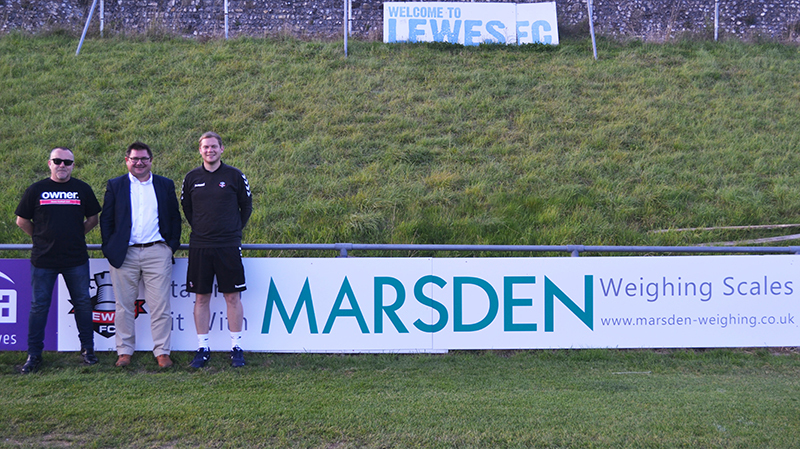 Last year, Marsden partnered with Lewes FC: One of the UK's most forward-thinking football clubs.

This weekend, six months on, we caught up with them to see how they were getting on with their Marsden MBF-6010 Body Composition Scale.
The occasion was Lewes' home game against Greenwich Borough. Prior to the match, three Lewes players and one of the club's physios spoke to us about how and why they use the MBF-6010.

Watch the video below to hear what they said.
For sports clubs who want to ensure their players are at peak performance, merely taking a weight reading is not enough. Standard weighing scales won't measure body fat, and they won't know the difference between muscle weight and the weight of fat in a body.
Set targets for the season
This means a player could lose body fat and increase muscle mass, but not see a difference in weight - yet, of course, their body fitness has improved. So, those serious about fitness and being at their peak physical ability need to take into account other metrics.
For Lewes FC, the readings the Marsden MBF-6010 provides help the club monitor fitness, set targets and understand what areas they need to focus on. For example, they may be a good weight for their size, but their body's fat percentage may be high.
"We weigh the players pre season, end of season and we do a weigh-in after Christmas," Lewes FC physio Debbie told us. We're looking at not only their weight but also muscle mass and how much water might be in the body."
Every player's readings tracked
Readings that the MBF-6010 provides, including Fat Mass, Body Fat Percentage and Total Body Water all help with Lewes FC's targets through the season - particularly after Christmas when they may have over-indulged, and pre-season, when they've had the summer to relax a little.
Lewes FC plan to track every player's readings using the print out of their results, and over the course of the season they will be able to see how each player has improved.
We look forward to seeing how the players do - who's been keep in shape and managed to reduce body fat, and who have a little work to do! Marsden will catch up with the team at the end of the season, see how their readings have improved, and find out if they think this has improved performance on the pitch and on the score sheet.
For more information about Marsden's body composition scales - including the MBF-6010 used by Lewes FC, and the portable MBF-6000 - click here. Find out more about Lewes FC here.
Oh, and the score on Saturday? Lewes took a clear lead over Greenwich and treated the fans to a 2-0 victory!