Why are industrial scales rejected for legal-for-trade use?
A legal-for-trade scale - also known as a Trade Approved scale - is one that has been tested and approved for legal use in the buying and selling of goods.

If an unsuitable weighing scale is used in the process of buying or selling based on weight, it is not only illegal but may lead to 'an unlimited fine' following a Trading Standards visit.
In 2014-15, there were 1045 Trading Standards Inspectors of Weights and Measures, who could visit your business at any time - and penalise you for failing to use Approved scales.
But what are the reasons a scale might be rejected by Trading Standards for legal-for-trade use? Marsden explains.
When must a Trade Approved scale be used?
The best way to think of it is: If money is going to change hands as a result of the reading on the scale, a Trade Approved scale must be used.
An example may be a scale used in a fruit and veg shop where the customer is buying potatoes. The customer will be charged based on the weight on the scale.
If the weight doesn't directly influence the price the scale does not need to be Trade Approved.
The Non-automatic Weighing Instruments (NAWI) Directive 2014/31/EU states four applications where Trade Approved scales must be used:
Determination of mass for commercial transactions
Determination of mass for the calculation of a toll, tariff, tax, bonus penalty, remuneration, indemnity or similar type of payment
Determination of mass for the application of laws or regulations; expert opinion given in court proceedings
Determination of price on the basis of mass for the purposes of direct sales to the public and the making-up of pre-packages.
Industries that sell business to business based on weight - such as scrap metal dealers - should be using Trade Approved scales.

How does a scale become legal-for-trade?
Trade Approved scales are subject to a stringent testing process and certification.
Only a Weights and Measures Inspector or an approved qualifier can provide verification of a legal-for-trade scale. An approved body must assess the scale's design and operation. Strict guidelines are in place that the scale needs to meet - from the accuracy of the readings to potential interference from other devices which may cause readings to be incorrect.
Approved scales are issued with a Declaration of Conformity, following testing. This provides evidence the scale has gone through the testing process.
"Approval testing covers both the accuracy and the repeatability (providing consistently accurate weight readings) of the instruments," the UK Weighing Federation's Technical Officer Ian Turner told Marsden.
"Once the scale has been put into production, an approved verifier must then check each one before it can be used for any of the six applications listed by NAWI."

Why might an industrial scale be rejected for legal-for-trade use?
Industrial scales may be rejected if it is found to be inaccurate or not compliant with manufacturing requirements on inspection.
Scales could also be rejected if they have not been correctly calibrated or repaired.

How can you tell if a scale has been rejected for legal-for-trade use?

The symbol to look for is the six-point star. This stamp or sticker is applied to approved equipment that has been rejected. It is an offence to use weighing equipment which bears a six-point star for legal purposes.
If you are considering purchasing second hand scales, it is important to check for this symbol as it will mean that the scale has been rejected in the past. It is an offence to use a weighing scale for legal purposes if it carries the six point star.

What to do if your scale is rejected for legal-for-trade use
It may be possible for rejected weighing equipment to be adjusted or otherwise repaired and submitted to the appropriate body for requalification.
According to Craig Fisher from Sheffield Trading Standards, "Trading Standards officers have the power in some circumstances to issue a notice to rectify issues which can be up to 28 days."
Alternatively, you may need to purchase a replacement scale.

How big is the issue?
The Weights and Measures Act annual report shows some error in legal-for-trade weighing equipment used by businesses.
Heavy duty scales weighing greater than than 5 tonnes are shown to be almost 7% outside of the error limit on average.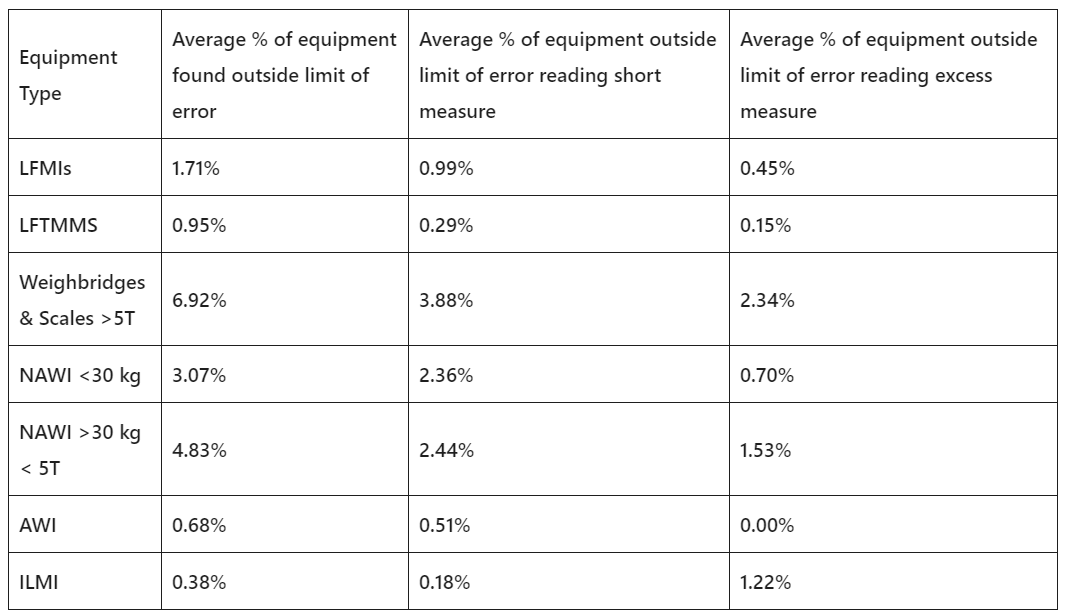 Of 20,000 scales inspected in England in 2014-15, 260 were found to be incorrect with 28 days notice issued. For retail outlets around 200 of 2200 visited were shown to not be compliant with regulations.

What are the punishments for not using legal-for-trade scales?
Trading Standards officers may visit any business and check weighing equipment to ensure it is fit for purpose and being used lawfully.
In some circumstances have the power to issue a 28 day notice - however fines and imprisonment can also be handed out.
"It is an offence to use unapproved weighing equipment for legal purposes, to make alterations to equipment after it has been approved for legal use, and to use seriously inaccurate equipment,"says Business Companion.
Craig Fisher says, "The fines can be level 3 (over £1000) for matters in relation to inappropriate use. But for all other matters it would be an unlimited fine.
"If it is fraud in relation to the use of Weights and Measure equipment, it can mean an unlimited fine and up to 6 months imprisonment.
"Magistrates will take into consideration many factors, such as the level of detriment caused, harm to vulnerable people, previous history and more."

Marsden's Trade Approved scales
Marsden has a range of Trade Approved scales. This range includes:
Mild Steel Platform: This platform scale is ideal for pricing goods based on weight. Perfect for weighing in factories and warehouses - with capacities up to 5 tonnes and a large, bright display.
HSS Bench Scale with JIK-APP indicator: This Approved scale is ideal for streamlining processes, with a number of functions to enhance weighing, such as the option to transfer weight data to a PC or print it out. The indicator is IP67 rated stainless steel and the bench scale's choice of capacities mean it is suitable for weighing up to 150kg.
Digi DS-781: This Trade Approved retail scale is highly accurate, easy to use, battery powered and portable - making it the ideal solution for shops and market stalls.
For more information on using legal-for-trade scales, download this white paper. Alternatively, call us for more information on any of our scales on 01709 364296 or contact us here.