The OCS-S1 Crane Scale Helps To Make Aircraft Travel Safer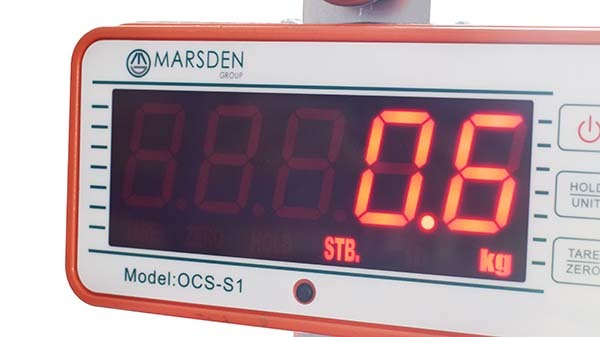 Marsden's range of industrial crane scales are ideal for weighing heavy goods. Crane scales allow users to weigh items whilst moving them, or ensure that a crane or other lifting device is not overloaded. Because they are suspended from above, crane scales can save space in your factory or warehouse too.
The OCS-S1 is a lightweight and highly accurate crane scale. With a choice of capacities and graduations it can be tailored to many weighing needs. Constructed with aluminium casing and fitted with a stainless steel shackle, it is a highly robust solution for suspension weighing.
Dunlop Aircraft Tyres are the world's only specialist manufacturer and re-trader of aircraft tyres. They supply to over 300 different types of aircraft in the civil and military markets. Among their customers are established names in the airline industry, such as Iberia, Thomson and British Airways. For their industry, an accurate weight reading of the tyre is crucial, as an overweight tyre can lead to potentially dangerous situations for the aircraft. We spoke to Anita Mitchell from Dunlop to find out why the OCS-S1 was well suited for this responsibility.
Easy to read and use
Anita told us, "We needed a scale to weigh newly manufactured aircraft tyres. "Our engineers department chose the OCS-S1 as it fitted their exact needs. They wanted a scale that could be easily connected to a hoist, and is visually easy to read and use."
The OCS-S1 has a large, bright red LED display which is clearly visible from long distances. Because the scale is infrared remote control-operated, it can be used from a safe distance.
High accuracy is crucial

"Accurate scales are very crucial in this environment," Anita added. "Every aspect of making an aircraft tyre is crucial, especially the weight. "This is critical within the landing gear casing of an aircraft. If the tyre is overweight it can lead to problems on landing with possible tread separation, tyres exploding on impact and more." Graduations as precise as 50g are available for the OCS-S1, meaning this scale is highly accurate.
Recommended for quality

"The main benefit it has made to our business is we don't have to physically take the tyre to a weighing station," Anita concluded. The scale is ultra-lightweight at just 1.3kg and is powered by 4x AA batteries, so it can be moved to wherever it is needed. "We would definitely recommend Marsden for their quality and precision."
The scale features Hold, Tare and Zero functions. For more information on the OCS-S1 click here. To view our crane scales range click here.
For more information on any of our scales, call Marsden on 01709 364296 or contact us here.