Better Brewing Starts With The B-100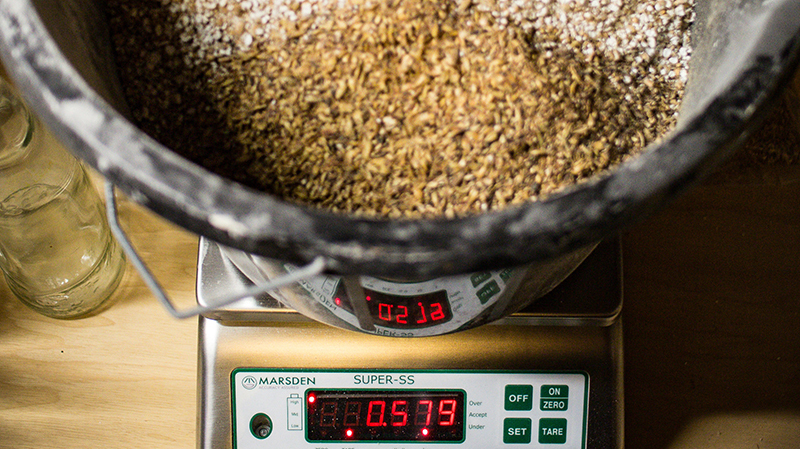 At Marsden, we know that our weighing scales are the key to better processes. Whether that's administering treatment for a patient, loading a lorry evenly and within legal limits - or, as in the case below, preparing ingredients for brewing ale.
Steve Hope, of The Brew Shed, based near Dunfermline, recently purchased one of our waterproof B-100 Bench Scales ) and was impressed enough to tell us what he thought of these products as brewery scales.
'Proper scales'
Steve found that the B-100 instantly improved the brewing process.
He told us: "One of the irritations when brewing is the problem of weighing out the grains. There's plenty of scales around the house: in the bathroom, two in the kitchen and another for weighing suitcases; I've used them all.
"Weighing out 15kg of grain on any of them is a chore, with buckets perched precariously on tiny surfaces, displays obscured, everything on the edge of tipping over. You can measure maybe 3kg at a time. And more than once I've forgotten how many 3kg loads I've weighed out and had to start again."
"I came across the Marsden B-100 on the SIBA website. It's a waterproof, stainless steel scale capable of weighing up to 15kg and on offer for £115. These looked like proper scales."
Essential
Once he had begun using his B-100, Steve found that he had just the scale he needed to aid his preparation process.
"The B-100 is perfect for weighing big batches of grain, and for weighing out small amount of hops. And, far from being a bonus, waterproof scales are essential for any brewer."
"Both scales are sturdy, solid bits of kit designed for everyday use in a working environment."
Better flow of production
However, Steve was most impressed with the B-100 as a brewery scale for weighing out grain.
"Even with a big bucket on the scales, you can still see the display on the B100.
"Once you've got a recipe to the point where you're happy, you want everything to be consistent so being able to reliably weigh out grains and hops is a huge bonus. The convenience of a scale able to weigh large amounts of grain makes the setup for brew days much more straightforward."
Find out more
If you'd like to find out more about the waterproof B-100 Bench Scale or any Marsden scales that are suitable for use as brewery scales, contact us here.
You can view the B-100 here.