B-400 Provides A Crop of Benefits at Farmyard Ales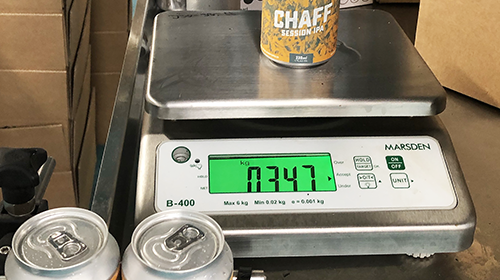 In a recent survey Marsden conducted, we revealed that there wasn't enough awareness in the brewing industry about Trade Approved scales.

Why are Trade Approved scales so important? If the weight of something determines its price, you must use a Trade Approved scale to weigh it. This is the law - and if Trading Standards visit and discover you're not using suitable weighing equipment, they have the power to issue a fine.
You can read more about Trade Approved scales in this blog post.
Weighing kegs or bottles

Where breweries are concerned, the use of Trade Approved scales is almost always required for weighing outgoing kegs, or during the bottling process. It's in the bottling/canning process that our latest Trade Approved scale - the Marsden B-400 - has really found a home.
Farmyard Ales, based in Cockerham, Lancashire, produces a fantastic range of canned ales, including blondes, golden ales and bitters. Every one of these ales now passes over their new Marsden B-400.
Quick and easy weighing

"The scale is used at the end of our canning line for weighing both 330 & 440ml cans," says owner Steve Holmes. "I was initially concerned about the reliability of the batteries and was looking for a rechargeable option although the B-400 has weighed over 20,000 cans on the original batteries."
The B-400 is perfect if you want the weighing process to be quick and easy. A simple checkweigh feature means that you can set a weight 'target' - the display will illuminate ready if your item is too heavy or too light, and green if it's the weight it needs to be.
"I love the check scale function as it provides fast and efficient weighing," says Steve.
Leading supplier to UK breweries

Farmyard Ales are, like an increasing number of breweries, using several scales - each one for a different task. Of course, some micro breweries tend to use a one-scale-for-all purposes where they can.
"The B-400 is a great trade certified scale and all our scales in the brewery are from Marsden. We use a B-100 Bench Scale for all our malt and hops and it's a cracking scale."
Breweries: if you need a Trade Approved scale to comply with weighing laws, you don't have to spend a fortune. Find the Marsden B-400 here.
Marsden is the leading scale supplier to UK breweries - if you need any help or guidance with purchasing the right weighing equipment for your needs, contact us.