M-120 Column Scale is 'Essential' for Treating Eating Disorders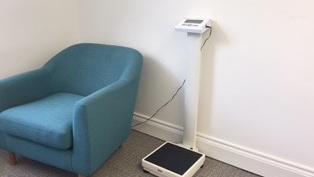 Marsden's range of Class III Approved scales are used by GPs, hospitals and other medical establishments nationwide.
With an accuracy of 200g, the Marsden M-120 Column Scale is suitable for use when monitoring an adult regularly to assess weight change, and when measuring weight to assist with medical diagnosis. It has a 250kg capacity, can measure BMI and with wheels on the bottom of the column it can be moved from room to room easily.
The London Centre is a specialist centre for treating clients with psychological conditions including eating disorders and body image concerns. As you can imagine, weighing patients is an essential part of what they do. We spoke to Dr Bryony Bamford from the Centre to find out why the M-120 was the perfect fit.
Affordable and reliable
Bryony told us: "We use the scale for weighing patients within an eating disorder clinic. We chose this scale as we were looking for an affordable but reliable medical scale.
"We needed a scale that gives precise and accurate weights for patients, but did not require it to do anything else - ruling out more sophisticated models.
The only scale that met their needs
The Marsden M-120 is a highly robust weighing scale, with features like Tare and Hold, yet has a very competitive price tag. "We looked at a few different scales, although this was the only scale that we found that fitted with our requirements and was within our price range," Bryony said.
Simple and easy to use
Bryony continued: "We have found the scale to be very simple and easy to use. It is essential to our business".
The London Centre also purchased a HM-201M Height Measure to assess the height of the patient at the same time.
To find out more about the London Centre click here.
Unfortunately the M-120 Column Scale is no longer available. To view the rest of our full column scales range click here. Alternatively, you can call Marsden on 01709 364296 or contact us here.