For Accurate Shipment Weights, It All Hangs On The OCS-X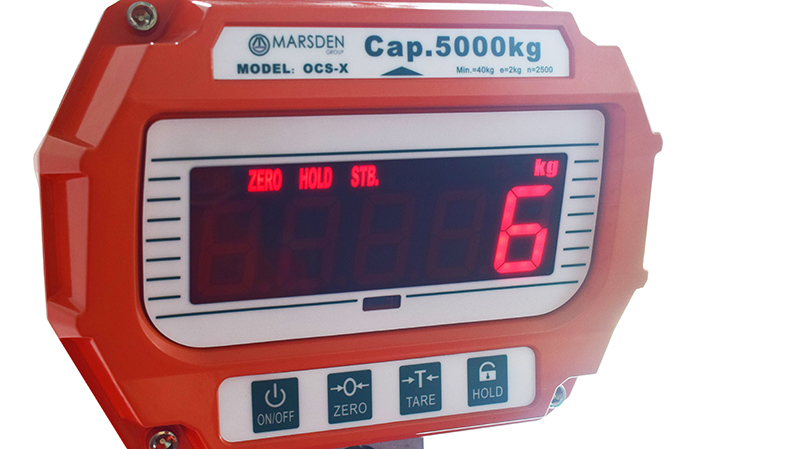 Marsden's range of heavy duty weighing scales are perfect for weighing when a high capacity is needed. Marsden crane scales cater for weighing up to 20,000kg.
The OCS-X is Marsden's best-selling crane scale. It has a choice of capacities up to 5000kg and graduations to 0.5kg.
Fabcon Food Systems Ltd manufactures and supplies bespoke handling and processes equipment to the food industry. Their solutions assist in the processing, handling, sorting, flavouring, weighing and packing processes. We spoke to Mandy Kelly, Account Manager at Fabcon, to find out how the OCS-X helped their processes.
Looked the part
Mandy began, "Our Forman chose the scale for the workshop. He needed a scale for weighing machinery and crates prior to export.
"What we are weighing ranges from 500kg to 3500kg. The OCS-X looked like the right tool for the work that we carry out."
The scale has a lightweight aluminium casing, meaning it is genuinely portable – and makes for an efficient, simple solution to suspension weighing.
A reliable solution
The OCS-X has a bright red LED display – making it clearly visible from long distances. An infra red remote control is supplied for operating the scale from a safe distance.
Mandy continued, "How often we use the scale varies – it depends on workload and where our machines are going to.
"The most useful feature of the scale is it works so well! The scale is very reliable."
We'd recommend Marsden

The OCS-X has a long battery life – powered by the internal 6V/ah rechargeable battery – with over 120 hours' continuous use.
"The scale has made a big difference to us," concluded Mandy, "it provides us with correct, accurate weights for export documentation and booking transport.
"It's simple what we would say to anyone considering ordering from Marsden: buy it!"
To find out more about the Marsden OCS-X Crane Scale, click here. The full range of Marsden Crane Scales can be found here.
For more information about any of our scales, call Marsden on 01709 364296 or contact us here.