DT-I-400's Usefulness Is Loud and Clear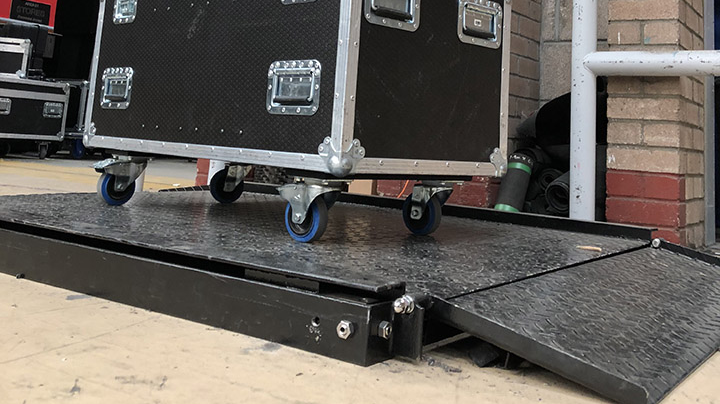 Marsden's range of platform scales, u frames, weighbeams and drive thru scales are ideal for heavy industrial weighing. A drive thru scale is particularly useful for pallet weighing as it has two ramps with a shallow incline, allowing pallet trucks to pass over with ease.
The DT-I-400 is a new addition to Marsden's range of drive thru scales. Perfect for dark environments with a large, bright red display, it lends itself well to weighing pallets in warehouses, factories and distribution centres.
Stage Sound Services are a production services company based in Cardiff, Wales. They provide sound and video services to theatre, corporate, TV and events industries – and include some of the country's leading theatre musical among their recent projects. We spoke to Warehouse Manager, Ashley Dyer, to find out why the DT-I-400 hit the right notes for their needs.
"We no longer need multiple scales"
"We needed scales to weigh sound and video equipment," Ashley began. "Most of the equipment we weigh is used nationally and internationally on the best loved theatre tours.
"The DT-I-400 was chosen for the flexibility it will bring to our workplace. We needed the ability to weigh small and large scale items without needing multiple sets of scales. The DT-I-400 also allows easy wheel on/off, this is great as most of our equipment is on wheels and so can be weighed as they travel through the warehouse to be loaded.
"The roll on/off ability is great and saves manually handling items onto the scale. Also the function that allows the scale to tally up all the weights and provide a total (accumulation), is helpful in double checking and time saving."
The scale also features a Tare function to remove any unwanted weight – such as the weight of a pallet.
"We can now label cases with weights"
Ashley continued, "The scales allow us to label cases with weights and so provide information for people in unloading areas. This is a must have – especially when it's never the same people unloading.
"The scales also allow us to provide carnet weights for international shipments."
"We're now more efficient"
Ashley concluded, "We did look at weighing scales from other manufacturers – but Marsden were the best priced. We just needed the scales to be robust and fit within the designated space in our warehouse.
"We are now able to weigh a whole lot quicker than before. This has allowed us to be more efficient and use less staff for the process."
Find out more about Stage Sound Services here.
Click here to view our Mild Steel Drive Thrus. Or view our full range of drive thrus, u frames, weigh beams and platform scales.
For more information about any of our scales, call 01709 364296 or contact us here.