The AGT-C Is Key for Keg Filling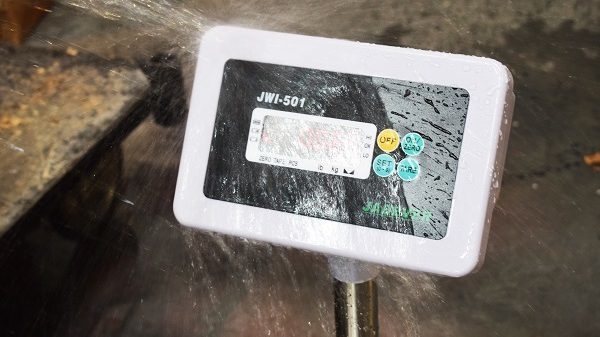 Marsden are a leading supplier of weighing scales to the brewing industry, with a range of scales suitable for weighing throughout the brewing process. You may already know the benefits of using weighing scales in the brewing process but this blog post covers it in more depth.
The Jadever AGT-C was Marsden's best-selling scale at SIBA BeerX 2017 - the largest UK exhibition for the brewing industry. With a choice of a base sizes, capacities and accuracies, this scale can be tailored to your brewery's needs. Plus, this scale is fully waterproof so can withstand spillages and can be hosed down.
Wild Beer Co were one of the breweries who we asked to help us with the weighing guide for breweries earlier this year. They had found using the AGT-C a breath of fresh air since ordering two of these scales at the start of this year. But why did they choose it and what benefits has it brought them? We spoke to Hester Boyce from the brewery to find out.
Used to ensure kegs are fully filled
"We are a brewery based in Somerset and are just entering our fifth year of production," Hester began. "We produce a wide variety of beer styles, with a particular focus on 'wild' beer. These beers are fermented by wild yeasts, are often sour and/or funky, and regularly aged in oak. We also produce an array of more conventional beers, and have a focus on quality over quantity.
"We use an AGT-C for weighing kegs once they have been filled, to check that they have been fully filled, as well as in the cellar when pitching yeast. We need to know exactly how much yeast we have harvested, as well as exactly how much we are pitching into a tank.
'Absolutely key' for brewery environments
"We use the other set for weighing malt. Both in sacks and loose (in tubs). This scale is set in a very dusty, floury environment, so the IP68 rating is key."
Hester continued, "We chose the AGT-C due to its waterproof rating (IP68), its capacity (up to 150kg), and the great price."
"They have been of great benefit because they are a reliable set of scales. Our last set frequently cut out as the waterproof rating was not up to standard. The IP68 feature is absolutely key for the wet brewery environment they are in.
"The scales are lightweight and easily carried through the brewery - and the battery life has proved to be exceptional."
Highly recommended
"Various people working here had used Marsden scales at their previous places of work and recommended - and we have seen why, first hand.
"We'd tell anyone considering purchasing a Marsden scale that these have lived up to our expectations," Hester concluded. "We use them daily. As an example, today we filled 180 kegs and pitched yeast.
"They work very well in the wet environment, have a great battery life and are light allowing us to move them around the brewery easily. I highly recommend them to anyone using them for the same type of work that we do."
For more information on Wild Beer Co, click here.
View the AGT-C here.

For more information on the AGT-C or any of our scales, call 01709 364296 or contact us here.