Next - Bespoke Product Line Scale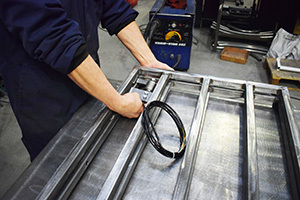 In 2016, a national homewares store contacted Marsden with a requirement for an automatic, bespoke weighing system for their production line. They needed a weighing scale that had a very high accuracy but with a very large weighing area.
Typically, a large weighing platform would mean one of Marsden's platform scales - but the minimum capacity/accuracy for a standard Marsden platform scale is 600kg with 200g graduations - far too high for what they needed! So, a bespoke weighing scale was the only solution.
The purpose of the scale was to check-weigh filling going into sofa cushions at the end of a production line. Each cushion is placed onto the end of a large tube from a filling machine and rested on the scale. The filling machine deposits the stuffing into the cushion, and once the scale recognises the target weight for each cushion has been reached the scale switches the filling machine off.
The scale was designed to be part of the production line, so the Marsden team built a weighing platform to the required dimensions by scratch. The only change was creating a scale of such a size that was accurate enough to weigh cushion stuffing: 1g accuracy was essential. This was accomplished by using four loadcells, and then constructing a platform that was heavy enough to use up loadcell capacity, and therefore reduce the capacity/graduation to 15kg x 1g. Just the job!
From initial enquiry to completion of the project was just five weeks - Marsden even delivered the scale to to the homewares manufacturer, set it up on their production line, fully testing it before and after fitting.
If you need a bespoke weighing solution for a production line, give us a call with your requirements on 01709 364296.