Marsden's M-430 Is Making NHS Health Checks Easier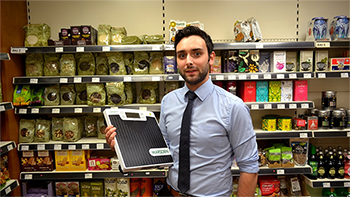 Recently, NHS Health Checks have provided a potential extra revenue stream for pharmacies.
These 'MoT' style checks are aimed at adults from 40 to 74 - and, to ease the pressure on GP surgeries, can be carried out at pharmacies, provided they have facilities and equipment - such as, for example, a Class III, medically approved weighing scale.
The Marsden M-430 Floor Scale is a great, low cost solution for pharmacies taking part in the NHS Health Check scheme. It's medically approved, robust and accurate. Plus, as a lightweight, portable scale, it doesn't take up much room! Abbott's Pharmacy, of Lindfield, Sussex use an M-430 for their health checks, and told Marsden why it's the floor scale of choice.

Easy to use
"I use the scale three to four times weekly." Pharmacist Manager Shane Duffy told us. "Mainly used for NHS Health Checks but I also use it during Medicine Use Reviews and when carrying out routine blood pressure checks."
Shane added: "I find the scale very easy to use compared to the others I have used in the past."

Useful features
The M-430 is easy to use, but still boasts many features that you won't find on traditional mechanical scales found in GP surgeries and pharmacies. For example, Tare and BMI. It's also accurate to 100g - again, more accurate than a mechanical scale.
"The LCD display is clear and easy to read, even from height," Shane told us. Shane also liked the on/off function - which allows the user to switch the scale on by simply tapping the surface of the sale with their foot. Auto power-off helps save battery power.
"The BMI calculator is a useful added feature," said Shane.

'Aesthetically pleasing'
On top of the features and ease of use, Shane added that he liked the look of the scale. It's a rugged, built-to-last weighing scale, but Marsden wanted the M-430 to look the part, too. "The design and digital display are more aesthetically pleasing than any mechanical scale I have used or seen," said Shane.

Find out more
If you would like to find out more about Marsden's range of Class III Approved medical scales, including the M-430 Floor Scale, or our range of column scales for GP surgeries and pharmacies, contact us here.
You can view the M-430 here, and the M-430BT, which allows weight data to be transferred directly to a central patient database via Bluetooth, here.