Why The Printer-Equipped PT-200 Pallet Truck Scale Fits The BIL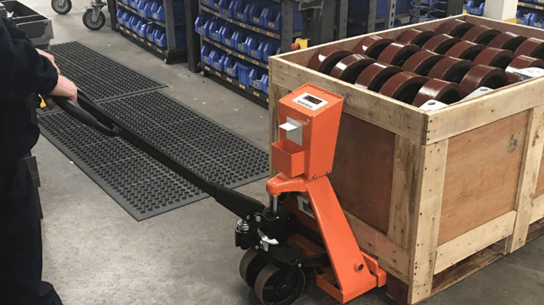 Using pallet truck scales means you can move and weigh palletised goods at the same time. Making moving and weighing a pallet one process means time and labour costs can be saved.
The PT-200 is an easy to use pallet truck scale with an IP67 certified indicator. The in-built printer differentiates it from many other pallet truck scales, as it means the weight reading can be printed out and used for internal and external record keeping.
BIL Group are manufacturers of castors, wheels and materials handling equipment - supplying major UK supermarkets, car manufacturing plants, airports and more. They needed a scale for weighing pallets in their dispatch areas. Here Tim Murrow, General Manager, explains why the PT-200 meets their needs.
Pallet truck scales save time
"We were looking for a pallet truck with weighing scales," says Tim.
"We did consider retro fitting weighing scales to our existing forklift trucks, along with floor scales. However these would have been static and have had to lift the pallet onto them.
"We needed a scale for weighing pallets prior to dispatch ensuring the weight entered onto our system is correct and they are not overweight.
"The contents of the pallet is castors manufactured by ourselves at BIL. They are 250mm diameter polyurethane on cast iron heavy duty castors - these ones will be used for boat cradles."
Print function an 'added bonus'
The PT-200 has a 2000kg capacity and is accurate to 500g. A rechargeable battery provides 70 hours' continuous use.
"The PT-200 looked to be the best option for the business with the added bonus of a printer," says Tim. "Being able to print a copy of the weight for our records is the most useful feature of the scale for us."
A printer on pallet truck scales means the weight of each pallet can be recorded - which is useful for internal record keeping or shipment documentation.
Smoother weighing processes
The PT-200 indicator is stainless steel, certified IP67. It has a bright LED display which is clearly visible from long distances. Tare functions allow the user to remove the weight of the pallet from the reading.
Tim concludes, "The scale has meant smoother process within our dispatch team, reducing the number of processes and time taken to move and weigh the pallet."
To find out more about BIL Group click here.
For further information on the PT-200 Pallet Truck Scale, click here.