PT-500 Pallet Truck Scale Ticks (and Weighs) Every Box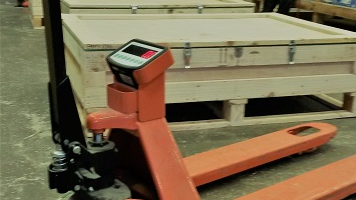 Choosing a pallet truck scale can improve operational efficiency time and result costs. It can make weighing more convenient and labour costs can be saved and reinvested elsewhere.
The PT-500 is part of Marsden's new range of pallet truck scales – it has a 2000kg capacity, 32mm bright red display and weight readings can be switched between kg and lb.
Advance Packing are experts in freight packing and makers of export cases and crates. Formed in 1999 and moving to purpose-built premises in 2003, the brand has built a reputation for bespoke packing solutions. They needed a scale for weighing export packing cases and chose our most popular pallet truck.
We spoke to Packing Manager, Paul Stone, to find out why the PT-500 has duly delivered.
Excellent reviews and good price
"We pack goods for export," Paul began, "the final packed weights are crucial for the shipping aspect, whether that be sea or air freight.
"An inaccurate weight being declared can lead to extra costs from shipping lines.
"We use the scales for weighing export packing cases. We looked at lots of alternatives but found the PT-500 was best suited to our budget and requirements. It was a good price and reviews online were excellent"
Any member of staff can use them
"We also provide empty packing cases and pallets for customers to pack themselves," Paul continued. "An accurate weight to advise them is again crucial for transportation purposes.
"Another bonus of the pallet scale is that any member of staff can use them, rather than only a forklift driver.
"The PT-500 has made a big difference to our business. It is simple to use and has increased productivity."
Would recommend Marsden to anyone in the industry
The pallet truck scale has a 2000kg capacity and graduations to the nearest 500g. A 6v internal battery provides for 40 hours of continuous use. The scale features Tare, Hold and Accumulation functions.
"We have found the most useful feature of the scale to be the fast start up and the accuracy of the readings," Paul concluded.
"I would certainly recommend a Marsden scale to anyone within this industry and we may soon be purchasing another."
To view the PT-500 click here. Browse our range of pallet truck scales here.

For more information on any of our scales, call 01709 364296 or contact us here.