The V-23 Is Portable and Perfect for Pets at Home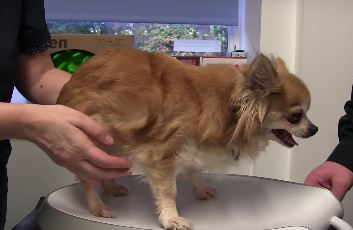 Unfortunately the V-23 is no longer available. Please view our other pet scales here.
The V-23 is Marsden's latest animal scale - launched because so many of our smaller veterinary scales were being purchased by dog and cat owners who needed a small, accurate scale. It was obvious that a small, lightweight weighing scale was needed for owners of smaller pets - and the V-23 is the result.

During the research and development of the V-23 Pet Scale, we made sure that we took into account the comments and feedback from customers over the years. So, the V-23 has a carry handle, it's unbelievably light, and it is highly accurate for smaller pets - like cats and small to medium dogs.
The V-23 Pet Scale is now available to order - and our very first customer, Sue Jones of Hull, gave us some feedback on her first few days with her new animal weighing scale. Here is what she had to say.
Accurate
"I'm not a vet or in business but my friend and I have seven dogs between us," says Sue. "As we compete in agility we don't want them to be carrying excess weight. One of the dogs is arthritic, so he especially needs his weight controlling.
"Our dogs vary between 3.5kg and 12kg so the smaller ones don't have to gain or lose much to be over or underweight. With a large dog, the odd pound doesn't make a vast difference but with a small dog it does make a difference."
Hold function
"I purchased the scale because of the hold facility. Other scales I have used have flickered when the dogs wag their tails or move slightly, so you could never be sure of the exact weight. The hold feature on this scale eliminates that problem."