P-DI-620P-APP Platform Scale Hasn't Gone To Waste at Global Recycling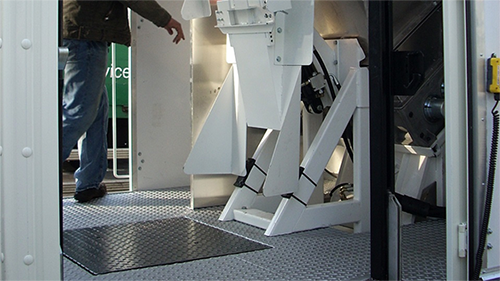 Marsden's range of Trade Approved platform scales are perfect for any industry needing to price goods based on weight.
The P-DI-620P-APP is a great example of a Marsden platform scale. It's ideal for heavy duty weighing, with a solid 5mm durbar top plate. It is ultra-low profile, with heavy duty levelling feet. And the scale is perfect for waste management companies: since the waste management industry is heavily regulated, it is essential that appropriate, high quality weighing scales are used.
This was the case with Global Recycling, whose customers needed a Trade Approved scale for weighing confidential waste. For this purpose the P-DI-620P-APP platform scale was the perfect solution, because it's Trade Approved, and has an in-built printer for recording weight readings.
To find out more about why Global Recycling came to Marsden when they were looking for suitable platform scales, we spoke to their Technical Consultant, Andy Dudley.
Most people charge by weight
"We are the UK and European dealer for Shred-Tech trucks; we sell them to the end user.
"We needed a scale for our mobile document shredder for confidential waste," Andy began. "The truck pulls up outside your place of work - and the waste is weighed as part of the shredding process.
"Most people charge by the weight reading - so we needed an approved scale for this reason."
Used Marsden for years

Andy continued, "We've used Marsden for years and know the brand. We have a good working relationship - Marsden do our repairs too.
"We didn't consider scales from any other manufacturer before choosing this model. We wanted to stick with Marsden because it's what we've always used."
Combined head unit and printer

"The mild steel platform fits into an industrial shredding unit - the platform scale fits onto the floor of a shredding truck," Andy added.
The scale has a choice of dimensions, capacities and graduations so can be tailored to your needs. It features Tare, Accumulation and Counting functions - and an RS-232 connection for connecting the scale to a PC.
But for Andy, the most useful feature of the scale was indicator. "The combined head unit and printer is really useful - it has no wires so is good for saving space."
View our pit mounted platform scale here. For all platform scales, weigh beams, u-frames and drive thru scales click here.
To find out more information about any of our scales call 01709 364296 or contact us here.