Weighing Reliability is Key for HD3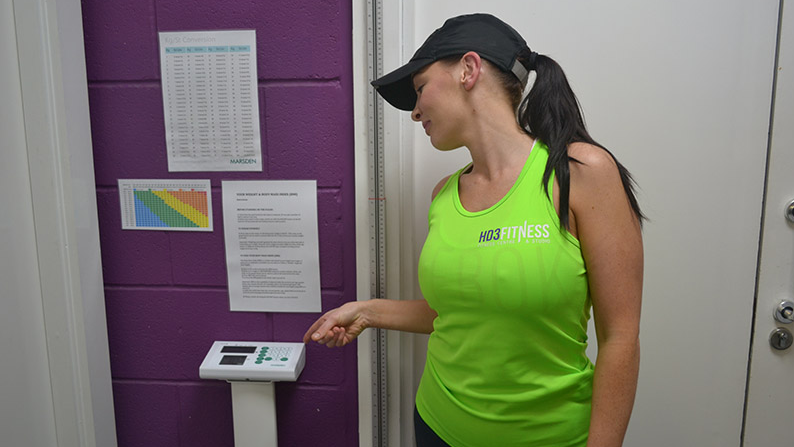 Marsden is the leading supplier of medical weighing scales to the NHS. Every Marsden professional medical scale is Class III Approved, which provides assurance that they are accurate, reliable and fit for purpose.
While Class III Approved scales are not necessity for use in gyms, sometimes it's good to know that the weighing scales you're using can be trusted. It's for this reason that HD3 Fitness chose the Marsden M-110.
The Marsden M-110 is a robust, high capacity column scale, with very accurate weight readings to the nearest 100g. The scale features two screens and a full numeric keypad for easy BMI calculations.
HD3 Fitness Centre is a community-focused gym and fitness studio in Huddersfield, West Yorkshire. They needed reliable weighing scales for use in their gym and by their personal trainers and opted for the M-110. We spoke to Ruth Dawson, HD3 Fitness Director, to find out why.
Able to withstand heavy use
"I chose the M-110 because I wanted a professional scale that did not break after a short period of time," Ruth began.
"The scale gets heavy use at the gym and it has been a good choice."
A British company
"Before purchasing, I researched a number of companies before deciding on Marsden," Ruth continued.
"As a British company, I could speak to you and see scales before I purchased them."
Portable, reliable and accurate
"The scale is used in the gym for members and personal trainers to use with clients, during weight loss programmes and training events.
"We've found the fact that it is rechargeable and so can be positioned anywhere is the scale's most useful feature, as well as reliability."
Ruth concluded, "By being reliable and accurate the scale has made a big difference to our business. The leveller is a great idea, as it reassures users that the weight readings are accurate."
To find out more about HD3 Fitness Centre click here.
For the Marsden M-110 Column Scale click here. To browse the Marsden column scales range click here.

For more information about any of our weighing scales call 01709 364296 or contact us here.