V-100 and The Dog Show World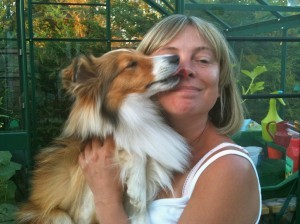 Marsden's V-100 veterinary scale has been a hugely popular scale for veterinary consulting rooms. Now, it's increasingly becoming the pet scale of choice for the dog show world.
We recently spoke to Elise Purdie, who has been dog showing for five years and bought a V-100 to weigh her Shetland Sheepdogs.
Elise comes from a long line of Shetland Sheepdog lovers in her family, and having began showing her dogs in 2010, understood how important it was to keep an eye on her dogs' weights.
"We recently had a litter of pups, and I would need a one hour round trip to the vets to get an accurate weigh in," says Elise, who lives in Lanarkshire.

Lightweight
Elise realised that weighing her dogs was an important part of both showing and raising her dogs, and needed a set of pet scales that were lightweight, easy to use and affordable.
"Now I can check their weights anytime," says Elise. "I also feed a raw diet to the dogs so I need to know their weights to work out how much food to give them, especially growing puppies. I need weights for working out medication, doses for worming, too."
Elise did a web search for suitable dog weighing scales, and found the V-100 veterinary scale here on our website.
Investment
"These scales are fantastic, says Elise. "I purchased them so I can get accurate weights - these scales have been a very worthwhile investment. I don't know how I managed without them."
Elise now believes that our V-100 veterinary weighing scale is an ideal candidate for use across the dog showing world. "Most of us have multiple dogs and invest heavily in equipment for them," she adds. The V-100 is an ideal dog weighing scale, being easy to use, portable, and highly accurate.
Accurate
In 2013, Elise won the Scottish Shetland Sheepdog Club 'Sheltie of The Year' and 'Puppy of The Year'. We're hoping, by providing an accurate account of her dogs' weights on a day to day basis, the Marsden V-100 vet scale will help Elise win further awards in the future.
Elise concludes: "My scales are now so integrated into my life that I can't believe I struggled on before without them."
If you're a dog breeder, or a member of the dog show world, get in touch to see how our V-100 is an essential part of your pet's growth, health and preparation for shows.
Additionally, our brand new V-22 veterinary scale is ideal for smaller pets - with a capacity of 20kg, but with accurate to the nearest 5g. The V-22 veterinary scale is available for order direct through this website now.