BBC One Show: How Accurate Are Your Bathroom Scales?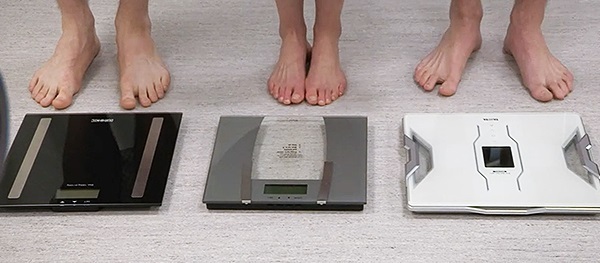 We recently came across an interesting feature on BBC's The One Show - where the question was asked: How accurate are your bathroom scales?
A selection of bathroom weighing scales were compared against a set of 'professional medical scales' - a Marsden M-510 to be precise! - to see how much they differed in accuracy.

Next, those bathroom scales in the test that were able to give body fat percentage readings were compared to the 'gold standard' in body fat analysing machines - DEXA.

The bathroom scales tested varied in price - from the pricier end of the market (a Tanita bathroom scale) to the cheapest money can buy (a Tesco own-brand bathroom scale and a Duronic bathroom scale) - and a WeightWatchers scale offering somewhere in the middle.

And the outcome? Well, it was no surprise that not one of the bathroom scales tested came close to the accuracy of the Marsden scale - of course, none of the bathroom scales tested were Class III medically approved.

When it came to body fat readings, none of the scales compared favourably to DEXA - the three bathroom scales tested that were capable of measuring body fat were inaccurate by around 30% - making the reading virtually worthless.

The summary at the end of the One Show feature was that it doesn't really matter how accurate your weighing scales are, as long as you use the same ones each time - that way, readings are relative and you can accurately monitor difference in your weight, if not your actual weight.

But is that really a good piece of advice?

What happens when you visit your GP, or if you're a member of a WeightWatchers group? WeightWatchers and GP surgeries will both use medical grade weighing scales, so they are always going to be far more accurate than your cheap bathroom scales - and this will surely only lead to confusion between what you've been using at home, and what your weight might actually be.

So, far from using the same cheap bathroom scales at home offering consistency, in practice, this can lead to confusion - and frustration - that your weight, on the face of it, is fluctuating wildly, reading far less than it should… Or reading far more.

And what about body composition? Well, Dom refers to DEXA as the 'gold standard' in the clip - and it is. As explained here, DEXA scans the body to get a complete detailed picture of fat content. There are very few weighing scales that can get close to this kind of detailed reading.

As a yardstick, Marsden's body composition scales, the MBF-6000 and MBF-6010, were developed with Hull York Medical School and when tested were as accurate as within 3% of DEXA. The supposed 'industry leader' is around 7% out - and, of course, those bathroom scales The One Show tested, as much as 30% out.

So - how much do you trust your scales? Marsden medical scales are Class III Approved - and the standard by which others are measured. If you're a GP surgery, pharmacy or hospital, your scales must be Class III Approved; if you're a gym, we highly recommend Class III Approved scales for ultimate accuracy and no ambiguity.

Marsden's Class III Approved medical scales, including the M-510 shown in the One Show clip, and our range of body composition scales.