Buyer's Guide: Brewery Scales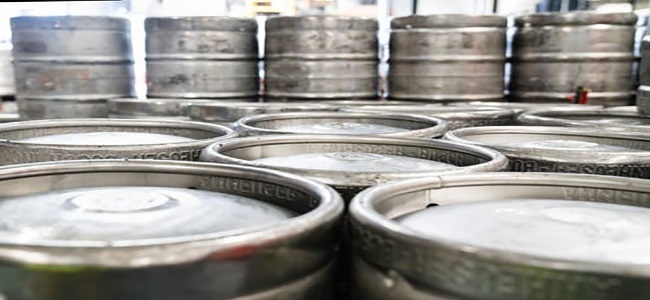 (Relatively) fresh from the recent BeerX trade show, organised by the Society of Independent Brewers (SIBA), we thought it a good time to write a guide to brewery scales. We spoke to dozens of breweries over the three day event, many with different needs and requirements - no two breweries are the same, it appears!
Marsden weighing scales can be found in many breweries now - most choosing the waterproof B-100 Bench Scale. However, there are some breweries who need something a little bigger, some breweries who need a Trade Approved option, and some breweries who just want something small and affordable.

So - if you need a new weighing scale to either improve your brewing process, ensure the right quantities are leaving your premises - or the right quantities are arriving at your premises! - read on...



For weighing out grain in bulk

We recently spoke to The Brew Shed, a brewery that chose our B-100.

As this case study shows, the B-100 - despite its relatively small size (the pan is 190 x 230mm) - makes a great scale for weighing out grain. The Brew Shed weigh out the grain in buckets, taring off the bucket weight beforehand, 15kg at a time.

The waterproof casing of the B-100 means it doesn't matter if the scale gets wet. You can drop it in water and it'll still work!

The B-200 Bench Scale is a lower-priced alternative - particularly popular with breweries because of the range of capacities (right up to 300kg!) and the separate indicator, which can be wall-mounted. We even have a video of the B-200 being demonstrated in a brewery!



For weighing out the smaller ingredients

There will likely be times when you need to weigh out smaller amounts of ingredients, and a greater degree of accuracy will be required. For example, small quantities of hops, or maybe fruit.

Our best option would be the Tanita 1458SS-310. This bench scale has an IP65 rating, so it can be easily wiped down. It also has an in-built rechargeable battery that'll last 300 hours or more - and has a capacity of 3kg.



For weighing bottled beer

Whilst at BeerX, we spoke to a bottling company, who needed a Trade Approved weighing scale - of course, when selling items based on their weight, an approved weighing scale must always be used.

If you like the idea of the B-100 - stainless steel, waterproof, battery powered - but need an approved scale, the DS-673SS is the one you need. This Class III scale has an IP68 rated casing, rechargeable battery that provides 40 hours' use, and a choice of either 6kg or 15kg capacities. That'll keep Trading Standards happy!

If the 250 x 290mm dimensions of the DS-673SS aren't quite enough, the HSS bench scale should fit the bill.

When paired with the I-100SS-APP, it's approved - and is available with a choice of capacities, graduations and base sizes. Treat it as either a floor scale or a bench scale, depending on the room you have available, and how many bottles you're weighing in one go. Stainless steel (304 food grade), IP65 casing means it's tailor-made for humid environments, and being wiped down to keep clean.

We can also alter the column height to your needs - just get in touch with us to find out more.



For bulk weighing - from bulk ingredients to casks

Finally, for weighing much larger items, have a look at our range of platform scales.

Aspall Cider recently purchased a couple of stainless steel platform scales for weighing out apple juice in 1,000 litre containers, and bins of apples of rejected apples.

This stainless steel PSS has an IP rating of 67, so great for damp environments - and washing down. There are two size options, and ramps can also be purchased. With ramps, pallet trucks can be rolled onto the platform.

Capacities are available up to 3000kg.

These weigh beams are another option - again, IP67, but much more portable than a platform scale. The multi-functional indicator can be connected to a printer for keeping a record of weights! A Trade Approved option is also available.
For seeing how much is left in your kegs
If you run an on-site bar for locals to come and try out your beers, then you might be interested in the K-100 Keg Scale.
It's ideal for weighing kegs to determine how many pints are left in them and has a low profile to make lifting barrels on and off of the scale easier. It's also lightweight so can quickly be moved to wherever your kegs are.
Please note that this scale is not Trade Approved, so cannot be used for selling kegs based on price.
If you're still not sure which weighing scales you need for your brewery, we'll be happy to help. Just get in touch with us here - or keep up to date with our special offers for breweries in the SIBA Classifieds!