Buyers Guide: Finding the Right Pallet Truck Scale for You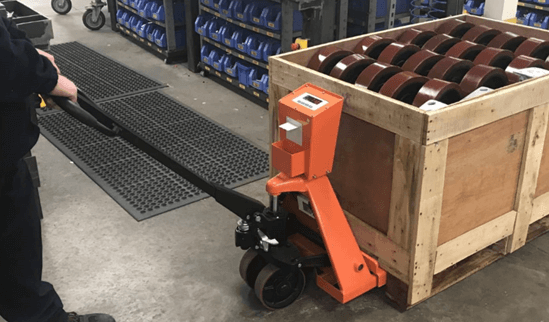 Here at Marsden, we have a wide range of Pallet Truck Scales available for purchase via our website. All of our devices are similar in nature, however each of them have certain features that make them suitable for specific applications. Industrial Pallet Truck Scales are an essential piece of weighing equipment for most warehouse or factory environments and are proven to increase efficiency. However, there are some factors to consider when choosing the best pallet truck scale for your business. Before buying, you should think about what the pallet truck scales will be used for and under what working conditions, as well as a wide range of criteria that we will explore in our post.
Take a look at this Buyer's guide for Pallet Truck Scales and choose the best weighing solution for your operation.
What is a pallet truck scale?
A portable weighing solution, Pallet Truck Scales are used in a wide range of industries and allow palletised goods to be weighed quickly and easily. Pallet Truck Scales are pump trucks with an integrated high capacity weighing scale and powered by a rechargeable battery. They are designed to improve productivity and increase efficiency by lifting and moving a pallet in one swift loading process. One of the benefits of using a Pallet Truck Scale is that they allow you to move palletised items around your factory as well as weigh them. For example, you may use a pallet truck scale to move and weigh goods before loading them onto a vehicle.
Many Pallet Truck Scales also boast weighing functions such as Accumulation which allows you to totalise the weight of several pallets and some models have a built-in printer for creating a physical record of the weights of pallets. The robust design of Pallet Truck Scales means they are durable and suitable for a wide range of workplaces. Our IP-rated Pallet Truck Scales at Marsden are ideal for use in challenging work conditions and can be used in damp or wet environments.
What application can pallet truck weighing scales be used for?
Pallet Truck weighing scales can be used in a wide range of environments and for a wide range of applications. Whether you are monitoring your logistics, moving items around your warehouse, a pump truck weighing scale is an imperative piece of equipment. Before committing to a weighing device, think about the weighing task that you would like to undertake and if a pallet truck scale is a viable solution. Our range of pump truck scales are highly suited for all warehouses, factories, logistics and food manufacturing environments.
Where will the pallet truck scale be used?
Where the pallet truck scale is going to be used and what elements the pallet scale is going to be exposed to can dictate your choice of scale. We have scales within our range that are suitable for use in both dry environments and damp and humid areas.
If you're looking for a pallet truck scale ideal for use in a dry and normal environment, then take a look at the affordable Marsden PT-100 Pallet Truck Scale for a hassle-free solution or the Marsden PT-200 Pallet Truck Scale with a built-in printer. Both of these high capacity pallet truck scales are constructed of mild steel so they should not be exposed to any elements.
The Marsden PT-400 Stainless Steel Pallet Truck Scale, however, has a fully stainless steel construction and has an IP67 rating, which means it's perfect for weighing pallets in damp or humid areas. We also offer the Marsden PT-450 Waterproof Pallet Truck Scale with an IP68 waterproof rating, it's perfect for demanding environments.
Do you need the device to be Trade Approved?
A trade approved weighing scale must be used in order to comply with regulations if you are buying or selling goods by weight. If so, the PT-700 Trade Approved Pallet Truck scale is the device for you. This device has the same specification and dimensions as our standard devices; however, it is a Class III Approved weighing device. This device has proven highly popular with logistic companies within the UK as it allows them to accurately monitor shipments with a certified weight.
What is the maximum lifting weight?
The first thing you need to consider before purchasing your pallet truck scale is what the maximum weight is that you are likely to be lifting? All Marsden pallet truck scales have a capacity of 2000kg and weigh in increments of 500g - we've found this is the perfect amount combination for almost any application. If you feel you may exceed this load it may be worth taking a look at one of our platform scales or beams. Alternatively, if you believe that a pallet truck scale is the correct device, but you would like to create a bespoke solution with an increased capacity, please do speak to our team today.
Check the dimensions of the forks on the pallet trucks scale.
Before committing to purchasing a pallet truck you should also check out the dimensions. The Marsden range of pallet truck scales are all designed to weigh euro pallets but can also weigh a vast array of items. All of the fork dimensions are listed on each of the individual product brochures. Before investing in any industrial weighing scales, it is worth checking that they are fit for their purpose. We can also create bespoke devices with alternative fork lengths and widths, our highly-skilled sales administration team will be able to support you with any queries that you may have.
Do you need a printed record of the result?
Another factor to consider is whether you want a permanent record of the weight reading. Our Marsden PT-600 Pallet Truck Scale with Printer offers large, clear weight readings that you can print and create a hard copy of with just the touch of a button. You can also purchase the additional print rolls via the Marsden website. For more information about the Marsden range of robust, accurate and reliable Pallet Truck Scales, contact our team of weighing experts on 01709 364 296 or email any enquiries to sales@marsdengroup.co.uk, and we'll be in touch shortly.
Discover the Marsden range of pallet truck weighing scales
Marsden PT-400
Marsden PT-500
Marsden PT-600
Marsden PT-700

IP67 rated pallet truck scale
Highly popular with food manufacturing sectors
Can be wiped down and will not rust
Contains IP68 rated loadcells
Zero and tare functions
Heavy duty pump truck scale

Standard weighing pallet truck scale
Simple and easy to use
32mm bright red LED display
Featuring our highly popular I-400
Mild steel construction
Weighs in kg or lb

Heavy duty pump truck scale with built-in printer
Simple and easy to use
Designed to weigh euro pallets
Featuring our popular I-400 indicator
Mild steel construction
Weighs in kg or lb
Zero/Tare function

Class III Approved Pallet Truck Scale
Can be used when calculating price based on weight
In-built printer as standard
Simple and easy to use
Designed for weighing euro pallets
Mild steel construction
Zero/Tare function
Marsden pallet truck scales are suitable for a wide range of applications across a broad variety of environments. Whether you require simple pallet weighing with the PT-500, Trade Approved weighing with the PT-700, a hard copy of the weight with the PT-600 or a washdown solution with the PT-400, we have something for all applications. Browse the entire Marsden Pallet Truck Range here. Alternatively, if you would like to speak to our sales department for support in finding the right device for your requirements, open a web chat or email sales@marsdengroup.co.uk.
Further Reading:
Designed to weigh palletised goods, discover how pallet scales work.
Pallet scales are essential in most industries, find out why portability can improve your efficiency.