Buyer's Guide: Veterinary Scales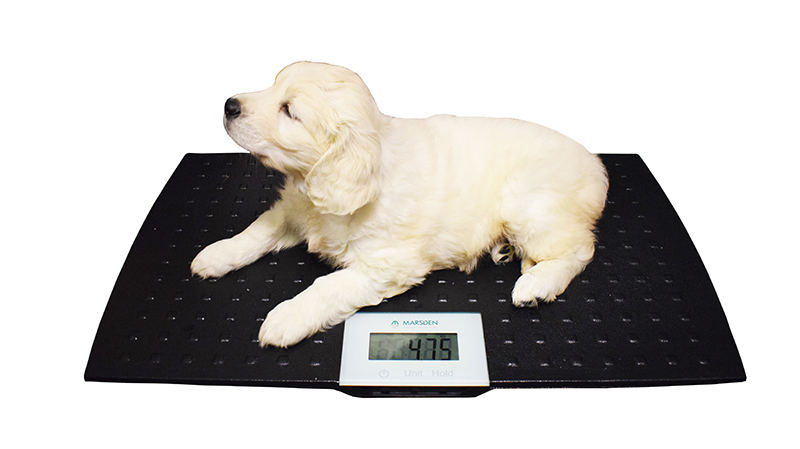 We all love our pets, and most of us will do anything for them.
We want our pet, whether it be a dog, cat, rabbit, hamster or guinea pig to be fit and healthy – and vets do too!
Pet health has never been more important, with our recent survey suggesting that over 50% of household pets are overweight.
As the largest supplier of veterinary scales in the UK, Marsden offers a range a range of weighing solutions for almost any size of domestic animal, but which vet scale is right for your needs? This blog post is here to help.
For large pets
The Marsden V-150 is a large veterinary scale which is suitable for all pets, including large dogs. A choice of capacities are available, with the highest of which being 300kg, meaning it's actually capable of weighing of a baby elephant! Although generally this veterinary scale is used for dogs.
A rubber mat is included in the price, and this gives a little extra stability for pets when they're stepping onto the scale.
Marsden V-150s can typically be found in the waiting areas of veterinary practices, where their large capacity means they can be used for almost any cat or dog visiting the surgery.
Two of these large veterinary scales were recently donated to Battersea Dogs & Cats home, much to the approval of their vet team (and the pets!). Read the case study here.
A slightly cheaper alternative to the V-150 is the V-250 Veterinary Scale.
This vet scale has a 250kg capacity, for weighing of larger dogs and accuracy to 100g. The V-250 has a stainless steel base - which is narrower but slightly longer than the V-150's - so it's easy to keep clean. The rubber mat is an optional extra with the V-250, however.
For medium sized pets
The V-100 is Marsden's best selling veterinary scale and it is clear to see why it has been so popular. Ideal for medium sized pets, including cats and most breeds of dog, this vet scale is robust, easy to wipe clean and has graduations to the nearest 50g, making it highly accurate for pinpoint weighing of pets.
The V-100 has also been a favourite among reviewers, and we have a number of case studies, where you can read about how it has been a success in a vet surgery, on the road with a mobile pet service and has even been a big hit at dog shows.

For small pets
For small pets, Marsden recommend the V-22 veterinary scale. This easy to use, lightweight weighing scale is ideal for weighing small dogs, cats, rabbits and guinea pigs, and has high accuracy to 5g. The weight reading is easy to read, with a bright LCD display.
The weighing tray is removable and there is a smaller weighing platform underneath for rabbits, guinea pigs and kittens.
Marsden's most affordable vet scale, the V-25 has a 25kg capacity for smaller pets, graduations to 10g and is perfect for home weighing. This animal scale is powered by batteries, and functions include Tare, Hold and memory recall.
For weighing pets out and about
Sometimes, a portable vet scale is needed - particularly by mobile veterinary services, breeders and owners.
Marsden's newest pet scale is highly portable. It's the V-24 and it's the lightest of all the veterinary scales in our range. With a capacity of 20kg and accuracy to 10g is ideal for cats and smaller dogs, as well other small pets like rabbits, guinea pigs and puppies or kittens.
It also runs on battery power, so can provide a minimum of 40 hours' operation.
A more premium option is the V-20, which has carry handles for easy transportation and can also be used as a stretcher. This high quality weighing scale has 10g accuracy and a 20kg accuracy.