What is a calibration certificate?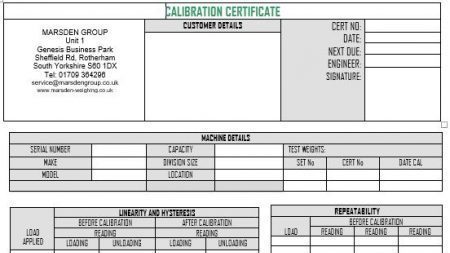 Any Marsden weighing scale can be ordered with a calibration certificate.

Most customers who buy industrial scales opt for a calibration certificate - but occasionally we'll be asked what a calibration certificate is.
While having a calibration certificate for each of the scales in your business is not a legal requirement, it is a piece of documentation that we would recommend you having. Why? Find out in this blog post...

What is a calibration certificate?
A calibration certificate is a document that provides information on the accuracy of a scale when last serviced.
The certificate will provide details such as the scale's serial number, the model of the scale and the date and location where it was tested. The scale will be tested at five points within its capacity, starting at zero, using calibrated weights. The points at which the scale is tested depend on the capacity of the scale, but for example if the capacity of the scale is 1000kg, it will be tested every 250kg - therefore providing five readings between zero and the scale's capacity.
This testing is carried out by adding the weights to the scale, one by one, and checking the reading - and then removing them one by one, and checking the reading.
The weight readings the scale shows each time are recorded on the calibration certificate.
If the scale's readings are slightly out, the scale will be recalibrated and tested again, with the new weight readings also added to the calibration certificate. This means you have a record of the scale's accuracy before it was tested, and its accuracy afterwards.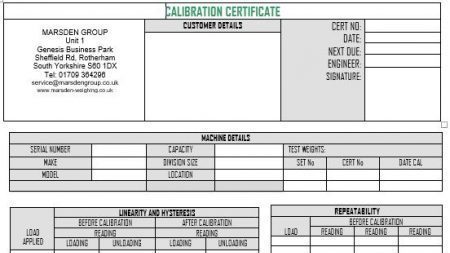 What are linearity, hysteresis and repeatability?
You'll see in the image on the left that the calibration certificate includes readings for linearity, hysteresis and repeatability. All are important measurements for different reasons.
Linearity and hysteresis refer to the consistency of each weight reading through the five points. For example, if the scale is out by 1g on the first reading, is it out by 1g throughout the five points? If you were to draw a graph to show the weight readings as you add weights and remove them, does it go in a straight line, or is it curved?
Repeatability refers to how consistent the scale is in displaying the same weight reading when the same item is added to the scale. For example, if a 500g item is added to the scale, removed and then added again, does the scale display 500g both times? The scale is tested three times to check repeatability.
Why would a calibration certificate be needed?
The question you're most likely to be asking. As we've said, calibration certificates are not a legal requirement but, importantly, they do provide evidence that a scale is accurate - important, for example, if your scale is used for weighing where a Trade Approved scale is required.
A calibration certificate can be issued for a scale as frequently as you need it to be, but typically they are issued once a year. Naturally, any weighing scales do drift very slightly in their accuracy over time, depending on how and where they are used. The more frequently they are tested, recalibrated (if required) and a calibration certificate issued, the greater your peace of mind.
It is worth noting that all Marsden scales are tested and calibrated before leaving our factory, but for compliance purposes, for example if you are being evaluated for ISO certification, the calibration certificate provides the paperwork that demonstrates your due diligence.
Who issues calibration certificates?
Many organisations can provide calibration certificates for your scales. For £15 Marsden can provide a calibration certificate as part of our ISO9001:2015 Quality Management System.
When ordering a new scale through our website, simply add a calibration certificate (from the Optional Extras list) to your order.
The calibration certificate is mainly used as a record which can be referenced for ISO quality standards.
Is there anything else I need to know about calibration certificates?
Not really! As a final note, it is worth remembering that an accurate weight reading is pivotal across industries to meet regulations, save costs and meet the expectations of customers. A calibration certificate provides the documentation.
To find out more about the calibration process, click here. For information about Marsden service contracts click here.
Alternatively, call Marsden on 01709 364296 for more information about calibration and calibration certificates or contact us here.