The Advantages of Using Crane Scales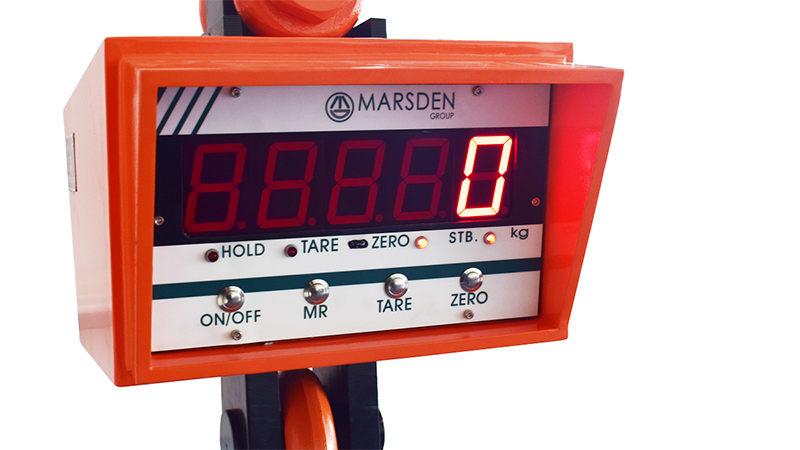 If you're looking to weigh heavy items – from large car parts to hefty metal girders – then you will need a practical scale with a high capacity.
Crane scales have a much larger capacity than most industrial scales – and have countless other features that appeal too.
They also offer health and safety advantages. Awkwardly shaped items can be weighed via crane, when they may not balance on a platform scale. You can also safely weigh items whilst moving them, and suspended from above, crane scales take up less space. There's no need for forklift trucks - and therefore accidents caused by forklifts on the premises are reduced.
But choosing the right crane scale can be a challenge. At Marsden we have vast experience in the industrial weighing sector and we want to use it to help you find what you need.
This blog post will give you a background to what similar companies to yourself look for when choosing a crane scale – you can then read our Buyer's Guide to work out exactly what you need.
How crane scales have changed
Over the years crane scales have become more accurate and are suitable for weighing to ever-increasing capacities In other words, more of your goods can be weighed with more accurate results.
The traditional dial scale has been replaced with a large, bright LED display, allowing the weight reading to be easily seen in dusty and dark environments.
Accessibility has improved, too. These days crane scales are very easy to use and they can be operated by remote control, meaning employees can work the scale from a distance away.
What should you look for when choosing a crane scale?
Know your capacities and graduations
The less you are weighing, the more accurate your scale can be. If your scale needs to be a certain accuracy, consider the scales that can weigh to this accuracy. Then opt for the one with the greatest capacity of the choices – you'll never know when you'll need it.
Consider how often you will need to move the crane scale
Many businesses want a crane scale which is lightweight and easy to move around. If the scale needs to be moved on a more regular basis, consider an ultra-lightweight solution, like the Marsden OCS-L.
Consider where you will be operating the crane scale:
Before ordering think about where the scale will be operated from. This will influence the size of the display that you will need. At Marsden, our largest capacity scales has a brighter display so it can be easily seen from a distance. Also consider whether you will need a remote control to operate the scale. This will be useful, for example, if you are based in a control room.
What are the advantages of using a crane scale?
High capacity and high accuracy
At Marsden we have four off-the-shelf products in our range suitable for weighing greater than 3000kg capacities: The AP-200 Axle Pads for vehicle weighing, and the Marsden OCS-X and Marsden OCS-Z Crane Scales for weighing heavy goods.
Despite the high capacity, crane scales are still highly accurate. Crane scales begin at 0.01kg on the Marsden OCS-L.
Anita Mitchell of Dunlop Aircraft Tyres told Marsden in a case study this year, "Every aspect of making an aircraft tyre is crucial, especially the weight – so accurate scales are crucial in this environment."
She ordered the OCS-S1 Crane Scale to meet her needs for accuracy. The OCS-S1 has accuracies from 0.05kg.


Weigh awkwardly shaped items
Crane scales are also perfect for weighing awkwardly shaped items. Though Marsden platform scales feature large base dimensions, often crane scales are better suited to weighing so-called awkward goods.
To use a crane scale for weighing these types of items, first ensure the object that you are weighing has a secure handle or attachment for lifting, then use the scale's hook to hold the item for weighing.


Compact
Crane scales are very compact so it is possible to fit them into a restricted space where a platform scale would be impractical. Thus, there is no need to set aside a certain amount of floor space for weighing.


Save time and labour costs
Portable crane scales can be taken to the items that need to be weighed, rather than having to transport the goods to the area of weighing.
Anita from Dunlop Aircraft Tyres told us, "The main benefit to our business is we don't have to physically take the tyre to the weighing station."
This means that the time and manpower that may have been needed to move heavy or awkwardly shaped items can be saved – and time and resources can be utilised more effectively.


Improve site safety
Using a crane scale is safer as risks involved in transporting items to the scale could be reduced. As a stage in the process is missed out, the workplace also benefits from time efficiencies. Goods can be moved and weighed at the same time.
A crane scale also reduces the need for fork truck traffic, which is another hazard for employees to consider.
To browse the full range of crane scales click here. Read how using a crane scale helped Dunlop Aircraft Tyres here.
Marsden Solutions
The Marsden OCS-Z is our largest capacity crane scale. With a big, bright LED display the reading can be easily seen from a safe distance. It is powered by rechargeable battery for 120 hours' continuous use.
The Marsden OCS-X has a capacities to 500kg and graduations to 0.5kg. This scale is lightweight and portable. The bright LED display is clearly visible and it an infra-red remote control enables easy operation.
The Marsden OCS-S1 is lightweight and has high accuracy to 0.05kg. The scale is ultra-lightweight (1.3kg) making it portable, and powered by rechargeable battery it can be used anywhere.
The Marsden OCS-L has the smallest graduations of all our crane scales and also our most portable. With graduations of 0.01kg it delivers pinpoint weighing for your items. The scale is commonly used in food production plants and markets and can be used to weigh meat, fruit or vegetables.
Marsden crane scales can be covered by an optional service contract. For more information about this and any of our crane scales, call us on 01709 364296 or contact us here.