Marsden Scales for Food Manufacturing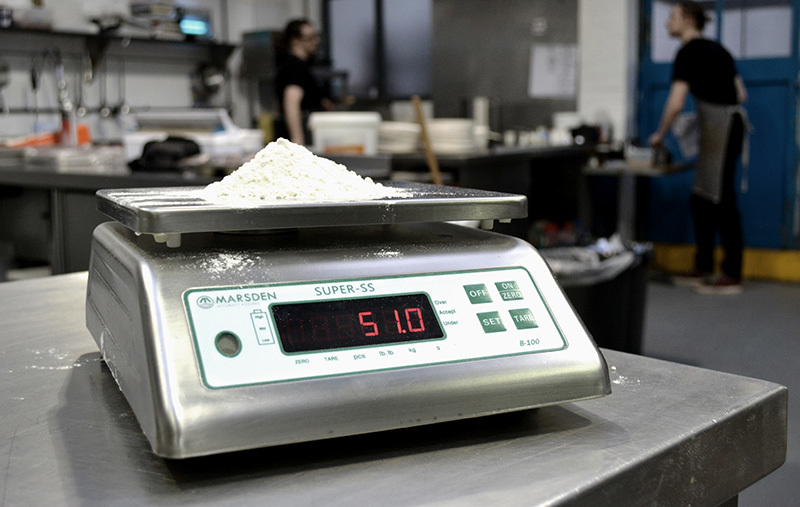 Within the food manufacturing and processing industry, weighing is a highly important tool. By obtaining accurate weights at every step of the process, weighing can enable food production to achieve optimum productivity. As a result, it can make processes easier for staff and reduce waste. Following a recent surge in orders, we would like to take this opportunity to share some of our best-selling weighing scales to food production companies and explain the reasons why we recommend them.
Waterproof devices.
An incredibly important function of any weighing device destined for food manufacturing is the ability to wash the device. In order for the device to be decontaminated and sterile, the weighing scale must have an IP rating. In our range of bench, pallet truck and platform scales we have a range of IP ratings available from 65 to 68. This means that not only can the weighing scales 2be used in punishing environments, they can be cleaned thoroughly without any problems to the inner mechanism of the weighing scale.
Legal for trade use.
A phrase which you may see around the Marsden website is 'Class III Approved' or 'Legal for trade use'. This means that the weighing device is approved and can be used in environments where a price is calculated based on a weight reading. For example, if you are selling produce based on its weight, you will need to use a legal for trade use scale. These can all be clearly seen on the Marsden website and you can find our more about Class III devices, here.
Bespoke weighing scales.
In order to find the correct weighing scale for your environment, sometimes a bespoke weighing device is required. Luckily, we have a range of devices in the Marsden range which can be made into a truly bespoke scale. For example, our advanced I-500 intelligent indicator can be paired with all of our platforms and bench scales to create a one of a kind weighing solution. A range of optional extras and our team of in-house experts make this an ideal piece of equipment.
Easy to read digital displays.
After working closely with a number of food manufacturers over the years, we have a good understanding of the environment. Becasue of this, we understand the importance of having a digital display which is bright and easy to read. A best-selling solution to food manufacturers is our stainless steel HSS base with the JIK indicator, primarily because of the bright display which can easily be seen from a distance. If you are looking for mild steel alternative, check out the MSS base.
Devices of all sizes.
As you may have seen from the Marsden website, we have weighing scales available in all shapes and sizes. Whether it is a small table top scale that you are looking for or a full stainless steel pallet truck scale, we have the right device for you. Many of our devices are hard-wearing yet lightweight and portable, enabling them to be moved efficiently around your food processing environment.
Software and integration.
Something which we are seeing more of in recent months is the requirement for weighing scales to have connectivity. Whether this is for storing ingredients, sending data to a PC or anything inbetween, we have the scale to suit your requirements. By integrating your weighing equipment and having a fully connected system, it can help reduce waste, streamline processes and improve output.
This is just a small list of the weighing devices which we have available in our range. Over the last couple of months, we have worked with some of the UKs leading food manufacturers, including Greencore. Weighing is not a one-size fits all process and we understand that navigating the range is complicated. Because of this, we we have a dedicated team on hand to answer any questions and find the right scale for you. Simply send us an email on sales@marsdengroup.co.uk or call 01709 364296.
View our range of pallet truck scales, here.
View our range of bench scales, here.
View our range of platform scales, here.