Pallet truck scales are perfect for weighing pallets for small businesses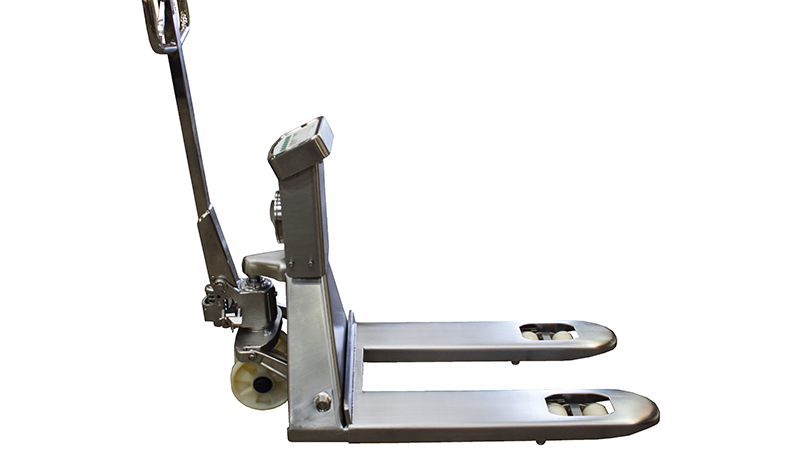 A pallet weighing scale can make a huge difference to processes in just about any size of business.

A pallet weighing scale could refer to platform scales, weigh beams, drive thrus or U frames – all of which are suitable for weighing pallets. Weighing pallets means you can track quantities, give customers value for money and ensure lorries aren't overloaded.
Pallet truck scales are also suitable for weighing pallets – and these scales provide various benefits that the scales listed above may not.
But what are these key features of a pallet truck scale and how can they benefit small businesses? This blog post explains.
What is a pallet weighing scale?
A pallet weighing scale could refer to platform scales, weigh beams, drive thrus or u frame scales - all of which are suitable for weighing pallets.
Platform scales and drive thrus are high capacity, heavy duty weighing scales. These types of scales are often loaded using a forklift, and due to their size many business keep them in a fixed location in their factory or warehouse. A weigh beam scale or U frame, on the other hand, provides some flexibility. These scales feature a handle and wheels for portability.

What is a pallet truck scale?
A pallet truck scale is also a type of pallet weighing scale. Pallet truck scales are portable meaning they enable businesses to move pallets as well as weigh them. Ultimately, pallet truck scales are designed to speed up weighing, moving and loading processes.
These types of industrial scale are most commonly used for goods weighing before a vehicle is loaded. A rechargeable battery powers all Marsden pallet truck scales.
Popping a pallet onto a pallet truck scale is a quick and easy way to work out the weight. By comparing how much a pallet actually weighs to the amount it should it can detect whether anything is missing to the load - far more accurately than the naked eye.

Why should a small business choose a pallet truck scale?
It is common decision for small businesses to decide whether a pallet jack or forklift is better for lifting pallets. If the business is using a forklift to transport the item, it may be placed on a platform scale to get the weight. Doing things this way, however, can increase time, costs and take up valuable space.
Choosing a portable pallet truck scale means the scale can be taken to the load, rather than the load to the scale.
As an alternative to a forklift, a pallet truck scale has lower upfront costs. They are small in size, so take up less space. Plus, the portable aspect of the pallet truck scale means it can be moved out of the way when not in use.
Further, pallet truck scales have lower operating costs and maintenance costs. If you are operating on a tight budget, a pallet truck scale may be more appealing.
Forklifts are more suitable for pallet racking or if pallets need to be stacked - but they also can result in higher upfront, operating and maintenance costs, and they require greater operator training.
Whether a pallet truck scale or forklift is most suitable for your business will depend on the number and the weights of pallets and goods that are moved daily. Current storage arrangements of the business can also influence the decision. Marsden pallet truck scales can weigh up to 2000kg - whereas Marsden platform scales are suitable for weighing up to 5000kg.
Some pallet truck scales are fitted with a printer, meaning small businesses can keep a record of the weights of goods they have despatched.
A pallet truck with scale can help you stay within the law. More laws and legislation are being passed regarding shipping and weights - and if you're loading a lorry, you must ensure it;'s within its legal load weight. Choosing a pallet weighing scale means you can check the weight of your goods before loading onto the lorry, to give you a better idea of the lorry's total weight. Printing out the weight provides proof for the carrier company that it has been weighed and can be used to prevent any overloading of vehicles.

What customers say about pallet truck scales
"We needed a scale for weighing pallets prior to despatch, ensuring the weight entered onto our system is correct and they are not overweight," said Tim Murrow of BIL Group. "The PT-200 pallet truck scale looked to be the best option for the business with the added bonus of a printer. Being able to print a copy of the weight for our records is the most useful feature of the scale for us.
"The scale has meant a smoother process within our despatch team, reducing the number of processes and time taken to move and weigh the pallet."
Paul Stone of Advance Packing added, "We pack goods for export. The final packed weights are crucial for the shipping aspect, whether that be sea or air freight. An inaccurate weight being declared can lead to extra costs from shipping lines.
"Another bonus of the pallet scale is that any member of staff can use them, rather than only a forklift driver.
"It is simple to use and has increased productivity."
You can read more about choosing a pallet weighing scale to improve warehouse efficiency here.

Choosing the right pallet truck scale
For our full range of pallet truck scales, click here.
Marsden PT-100: This pallet weighing scale has a 2000kg capacity and accuracy of 500g. The forks are low profile with 78mm ground clearance, meaning it is suitable for most types of pallet. It also features a bright red LED for clear visibility from long distances.
Marsden PT-200: The PT-200 features a stainless steel IP67 certified indicator. Unlike the PT-100, this pallet truck scale features a printer so you can keep a record of weight readings.
Marsden PT-450: This is an IP68 rated pallet weighing scale, purpose built for environments where the scale would require washing down. It is particularly suitable for food factories and chemical plants.
Marsden PT-600: This is a heavy duty pallet truck scale with a printer. The difference between PT-600 and PT-200 is the indicator. The PT-600 indicator is slightly larger, with a bright red LED readings which are visible in almost any lighting conditions.
For help choosing the right pallet truck scale for your needs, use this pallet truck scales buyers' guide.
For more information on any of our pallet truck scales, or any pallet weighing scale, call 01709 364296, contact us here or use our web chat facility.