Which Pet Scale Is Best for Your Pet?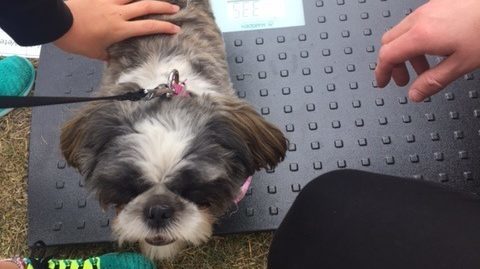 Last year we discovered that 54% of pet owners don't weigh their pet at home. Moreso, 47% of those surveyed only weigh their pets annually at the vets. Then lockdown struck.

Weighing your pets is now harder than ever and it's reflected in the pet obesity rate. According to Wakefield Research, 33% of pets have gained weight during lockdown with 40% of respondents confessing they've been feeding their pet more snacks and treats while at home.
Weight gain in animals can lead to serious diseases, such as arthritis and diabetes. So it's important that pet owners keep an eye on their pet's weight. Especially during lockdown when it's not possible to visit vets for the recommended monthly weigh-in.
Fortunately we have a range of pet scales, which cater to all sizes of pets. This makes weighing your pets at home simple and easy.
For Larger Pets
If you own a larger breed of dog, such as a Great Dane, German Shepherd, Newfoundland or Labrador Retriever, the Marsden V-110 Veterinary Scale is the ideal scale for you. This scale is incredibly popular with veterinary practices, breeders and pet owners because of its high quality and because it's easy to use.
It has a capacity of 150kg with graduations as low as 100g. The surface is also non-slip to make weighing even easier, in addition to Tare and Hold functions.
Marsedn's best-selling veterinary scale - the V-100 - is another great option for weighing larger pets. Although it's smaller in size than the V-110, it still has a max capacity of 100kg and graduations of 50g. The reviews for this scale highlight its "value for money", "lightweight" design and "long battery life".
For Medium Pets
When it comes to smaller dogs or cats, the Marsden V-22 Portable Pet Scale is ideal. The V-22 is incredibly accurate and offers graduations of 5g and also features a removable wipe-clean tray, to access a smaller weighing platform for guinea pigs and other smaller pets. Its capacity is 20kg, which covers almost all spaniels, terriers and bulldogs.
This scale boasts a battery life of 40 hours of continuous use, meaning you won't have to worry about changing the batteries often.
For Small Pets
The Marsden V-24 Veterinary Scale is perfect for a multi-animal home. If you own a small dog or a cat and a rabbit and want to watch the weight for all of them, the V-24 is a great choice. It comes with a sculpted tray for placing smaller animals, such as your pet tortoise, and this can then be removed in order to weigh cats or dogs on the small weighing platform underneath.
This pet scale has a capacity of 20kg with graduations of 10g; but it also features an overload protecting, in case your pet is a little heavier than 20kg. It has an incredible battery life with 60 hours of continuous use to simplify your monthly weigh-ins.

For the Smallest Pets
For hamsters and guinea pigs, the scales above are likely to be too big and not precise enough. The Marsden B-200 verastile bench scale on the other hand is perfect for this. The 15kg capacity is easily enough to cover the weight of even the biggest hamsters, but with a high accuracy of 5g.
The small platter is also wipe-clean stainless steel, so cleaning up after weighing would be quick and easy. It's also simple to use and still has the Tare feature, like larger scales. This is useful if your hammie has a favourite bowl or box. Simply weigh the box and Tare it, before adding your pet to get your pet's weight.
Conclusion
Hopefully this blog post will help to clear up any confusion when it comes to choosing the perfect pet scale for your home. Most of the scales mentioned above come with a hold feature, for stabilising the weight of a wiggling pet, and they all come with a tare feature, for removing unwanted weight, such as a blanket or basket, etc.
Plus, most of them are currently on sale.
Take a look at these scales online today, or call +44 (0) 1709 364 296 to speak to a member of the Marsden team about which scale is the best for you.
Further Reading
Out of curiosity, we compiled a list of the world's heaviest pets. Now you can see it too, here.
One of the things we found in our survey was that 26% of respondents didn't know the ideal weight range for their pet. So how do you know if your cat is a healthy weight? Find out here.
And what about your dogs? Find out how much your puppy should weigh here.