Pet owners advised to weigh pets every month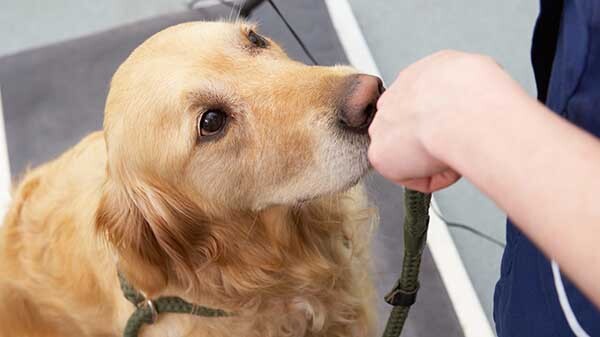 "Weigh your growing pets every month," Georgiana Woods from the Royal Canin Weight Management Clinic at the University of Liverpool has urged pet owners.
In an interview with the Telegraph newspaper, Ms Woods was commenting on the alarming trends of pet obesity.
The Association for Pet Obesity Prevention had found 59% of UK dogs are overweight or obese. This had been backed up by Marsden's own research earlier this year.
Why is pet obesity a problem?
"Obesity now ranks as the most common medical condition affecting pets. It's not unusual now to see dogs more than 50% above their ideal weight," Georgiana says in the Telegraph's story, which was published today.
Problems such as arthritis, breathing problems, diabetes mellitus, heat intolerance and skin conditions can occur as a result of pets being an unhealthy weight - all of which can severely reduce the quality of their life.
"Many pet owners are unaware that certain breeds such as Labradors, pugs and beagles are more disposed to putting on weight. Neutered dogs are also at higher risk of gaining weight, as is any animal that is less active because of a medical condition," she added.
What causes pet obesity?
Excessive amounts of treats and chews is seen as one of the leading causes of pet obesity. Another issue is when animals are fed inappropriate or human foods.
"Inaccurate measuring also leads to over-consumption," says Georgiana.
How can you spot pet obesity?
The best way to spot pet obesity is by regularly weighing your pets.
However, there are other signs that will tell you that it is time to cut back on your pet's food - such as "visible excessive body fat, reluctance to exercise or play, and high levels of panting."
For further advice, your local veterinary practice is a good port of call.
Georgiana recommends that monthly weight checks at the vets are advisable while your dog is growing.
"The weight of adult animals should be assessed every two to three months," she adds.
What to do if your pet is overweight or obese?
Our recent pet health poster provides several good ideas for improving the health of your pet.
A good tip, Georgiana suggests, is "to always feed for the desired weight and not the current weight of your pet."
Digital scales, such as the B-100, can be used to measure pet food – cutting overfeeding by 80%.
Slow feeders, puzzle feeders and interactive feeding toys not only make meals last longer but uses extra energy in order to shift the excess weight.
Vets can also advise a good weightloss plan for your pet.
Marsden solutions
To assess whether your pet is overweight or obese, at Marsden we have several veterinary scales to meet your needs.
The V-150 Large Veterinary Scale is a high capacity veterinary scale, ideal for weighing large animals. This high quality weighing scale has an easy to clean stainless steel base.
A choice of capacities (150kg or 300kg) and accuracies (50g or 100g) are available. Plus it is powered by rechargeable battery and has a carry handle for portable weighing.
The V-250 is a high quality, super-sized vet scale for monitoring medium to large pets. With a low profile 50mm platform, it is easy for the pets to step onto the scale.
An optional rubber mat can be added to the scale for additional comfort for the pets.
The V-22 is a lightweight and portable weighing scale which is suitable for weighing pets in the home or in a surgery.
It has high accuracy to 5g and is the perfect weighing solution for small and growing pets.
We also recently donated two V-150's and twelve V-22's to Battersea Dogs and Cats Home. We will also be appearing at Battersea Dogs & Cats Home Annual Reunion at Battersea Park this Sunday (4th September) to continue to spread the word about pet obesity.
Our new veterinary scales buyers guide will help you choose the right veterinary scale for your needs. Our full range of vet scales can be found here.