How Can Weighing Patients With Limited Mobility Be Made Easier?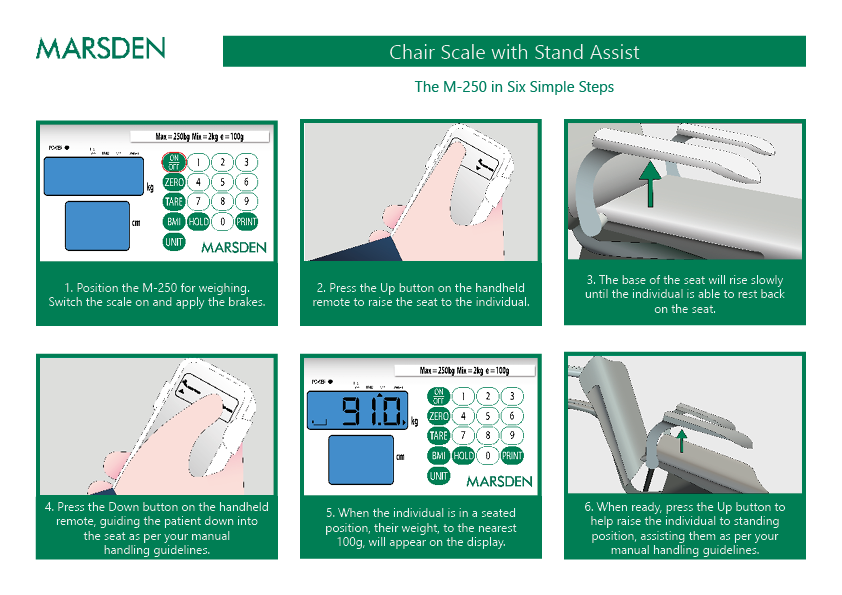 Weighing patients with limited mobility takes time, and can be uncomfortable for the patient and staff.
The most common solution is to use a wheelchair scale, if the individual has limited mobility. Depending on the size of the patient, and how limited their mobility is, this can be an involved task, requiring time a lot of time and patience.
It can also be a stressful process, too, as well as uncomfortable, with a risk of back injury and hip fractures.
So how can weighing patients with limited mobility be made easier?
Risks of Weighing Patients With Limited Mobility
For the individual being weighed, movement from sitting to standing can be a great strain, especially with those suffering from existing conditions. In fact, hip fracture, the most common serious condition in older people, costs the NHS £1billion per year.
And according to the National Hip and Fracture Annual Database (NHFD), in 2016, over 65,000 people aged 60 or over presented to 177 hospitals in England, Wales and Northern Ireland.
For healthcare staff, back pain, or worse, back injury can result from maneuvering patients into or out of a wheelchair. The American Academy of Orthopaedic Surgeons says that "the most common injuries caregivers experience are to the back, neck, and shoulders, and are often caused by overuse — repeating the same pulling motions again and again."
In the UK, in 2010, manual handling incidents accounted for 35% of the total number of incidents reported by the healthcare sector, according to the Health & Safety Authority.
Getting a Patient Out of a Chair Scale
Whichever chair scale is used to weigh the patient, it's not getting the weight itself that is the challenge - it's getting the patient into, and out of, the chair scale to be weighed. If weighing patients with limited mobility is to be made easier, this is the place to start.
In early 2017, following consultation with healthcare staff, Marsden began looking at ways to make weighing patients with limited mobility easier. Weighing immobile patients whilst they are in a bed, or during lateral transfer, was taken care of: development was about to begin on the revolutionary Patient Transfer Scale.
But for - predominantly older - individuals who are unable to stand unaided, and who would usually be weighed in a chair scale, the focus was on making it easier to get them into - but more importantly out of - the chair.
Chair Scale With Stand Assist
Whilst using suitable manual handling techniques when weighing patients using a wheelchair can make a significant difference to comfort, speed and reducing the risk of injury, a chair scale with a seat that rises can also transform the process.
Our new M-250 Chair Scale with Stand Assist takes the strain and reduces the effort required by healthcare staff. It takes pressure off staff, helping to reduce the risk of injury and making the weighing process more relaxed and stress-free for the patient.
How Stand Assist Works
The M-250 is operated using a handheld remote. Press the Up button and the seat base rises to meet the individual to be weighed. Pressing the Down button means they are then gently eased into the seat, comfortably, gradually and with minimal effort required by staff.
When the seat base is fully lowered, the weight reading appears instantly on the display.
Then, when weighing is complete, pressing the Up button gently eases the patient out of the chair, with only minimal guidance required by staff.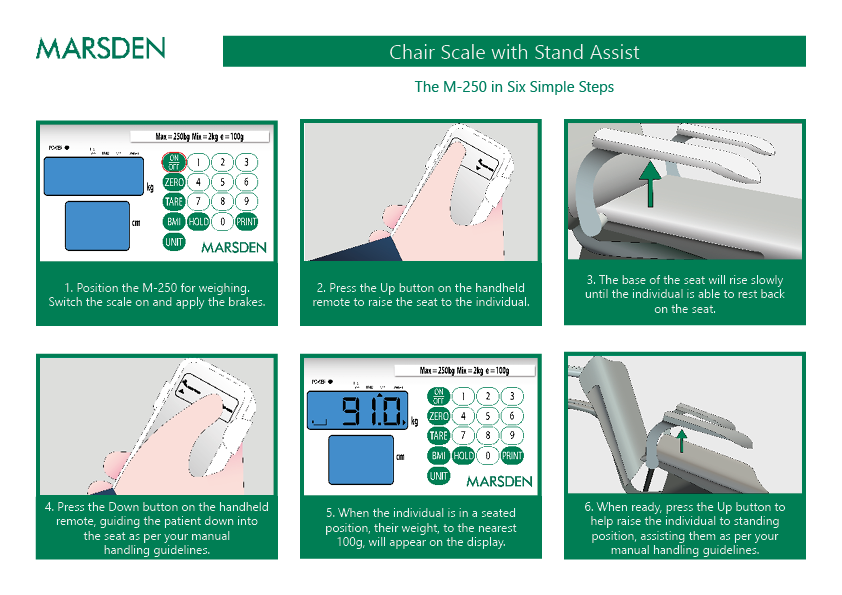 Order Your Chair Scale With Stand Assist
The M-250 can be preordered now, with first deliveries in September 2020. You can find out more and preorder yours here.
See the full range of Marsden chair scales here.
Further Reading
Weight is a key indicator of nutrition and fluid balance. Because of these and more, regular weight assessments in care homes are essential.
When getting a patient out of a wheelchair, make sure you follow best practice to avoid risk of injuries.
If you're weighing immobile patients, with the Patient Transfer Scale in mind we list eight best practice steps here.