How Weighing Scales Can Help Breweries and Distilleries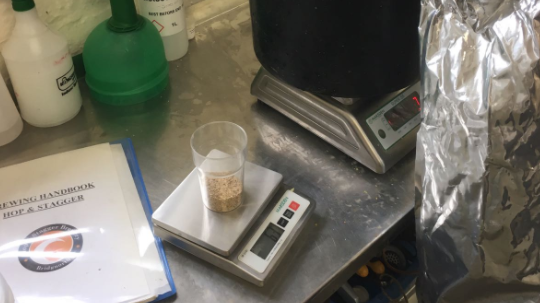 When it comes to distilling and brewing, scales can be as vital to the process as hops or grains. For example, without accurate weighing scales, the final product could change dramatically due to weighing inconsistencies.

In this blog post, we cover the key benefits provided by weighing scales to breweries and distilleries.
Accurate Weighing in Alcohol Production
When weighing smaller ingredients, such as cinnamon, liquorice or other botanicals, minute amounts are usually required. A guide by Lovebrewing estimates that popular brands, such as Beefeater London, Bombay Sapphire and Tiger Gin, use measurements as small as 0.1 grams. For this, a very precise scale, such as the Marsden B-450 Bench Scale, is vital to avoid any inaccuracies. Otherwise, you might not be able to promise the same great taste every time.
Improving Hygiene During the Brewing Process
There's no way around it - breweries and distilleries can be messy places to work. There's a lot of dusty ingredients and it just takes one wrong move to send a bottle tumbling. Thankfully washdown scales make cleaning up easy. Depending on the IP rating of the washdown scale, they can either be wiped down, hosed down or submerged in water and scrubbed down, ensuring that they're as clean as can be. This makes cleaning easier and ensures that you are compliant with any relevant hygiene laws.
Simplifying the Flow of Production
For weighing bulk quantities of raw materials, such as grains and hops, a scale with a Tare function is necessary. This is to remove the additional weight of the container, in order to accurately weigh just the grains. However, in many cases adding a bucket to the scale obscures the display. Large containers often obscure smaller scales, so a scale with a free-moving indicator is necessary.
The Marsden B-250 Bench Scale is ideal for this scenario. It has a movable magnetic indicator, meaning you can easily see the indicator, regardless of the size of your container. Plus, it's hard-wearing thanks to its stainless steel construct, with graduations as low as 2g, depending on the capacity. The B-250 also has a much higher capacity than your typical kitchen scale. Steve from the Brew Shed also praises the Marsden B-100 Bench Scale because he can weigh 15kg of grain in one go with it, whereas his old scales only weighed in 3kg intervals.
Automating a Brewery
For larger breweries, automation can bring huge benefits, from reducing the amount of manpower required, to eliminating human error and improving accuracy during the brewing process.
Marsden has a range of weighing scales that can control other devices, for example a hopper. Simply set the required amount of ingredients required in the scale's memory, and when the preset amount of ingredients required is reached, the scale will automatically switch the hopper off.
Automation can make a number aspects of the brewing process much simpler, more accurate and require less supervision - better for the customer and better for your bottom line. See more on the following video:
Staying Legal While Selling Alcohol
You may already know that Trade Approved scales are essential for breweries, or you may be within the 25% of breweries, who aren't aware of the need for Trade Approved scales. If you sell bottled goods or kegs, based on the amount of liquid inside, then it's a legal requirement to use a Trade Approved scale. This is to ensure that customers are guaranteed to get the volume of product that they are paying for.
We have a complete range of Trade approved scales, ranging from smaller bench scales for measuring bottles, to larger platform scales or drive thrus for weighing kegs.
If you also personally deliver your goods, another potential legal issue you need to be aware of is overloading. When transporting your products, it's vital that you don't overload your trucks or vans, as this is breaking the law and can result in a fine. Stay ahead of the DVSA, by ensuring your transport isn't overloaded with our Marsden Platform Scale or the Marsden PT-100 Pallet Truck Scale. Weigh your pallets, kegs or boxes before they're loaded to ensure that you meet the legal standards.
Further Reading
Our survey of 200 breweries regarding Trade Approved scales found some astonishing results. Read the full article here.
What are the penalties for overloading? And how can you avoid overloading vehicles? Find out more about the laws on vehicle weights here.
Although we touched upon them briefly, there's many more benefits to washdown scales than simply being cleanable. Find out 6 key benefits of washdown scales in this blog post.