Buyers Guide: Weighing Scales for Logistics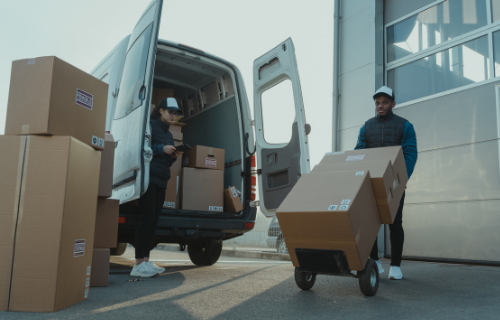 Here at Marsden, we have been serving all industries across the United Kingdom for over 95 years. However, one particular sector which we have developed a close connection with is the logistics sector. Our close relationship has been built on close communication due to the broad range of applications for weighing devices within the logistic industry. Over the years, we have developed a range of products which are suitable for all environments within the logistics industry.
In this blog post, we will share with you the applications that Marsden scales can be used for, the key things to know and the things to check before making a purchase.
What are weighing scales used for within the logistics industry?
Within the logistics sector, weighing scales are used throughout the industry. For example, you will often find bench scales at goods out, platform scales at goods in and pallet truck scales throughout the warehouse. Whether you are monitoring weight for stock control, manual handling, vehicle loading, quotations, etc, Marsden have a weighing scale to suit your requirements. Not only are weighing scales available to purchase directly from the Marsden website, you can even contact us to require a site visit and we will scope our all of the various applications throughout your establishment that may benefit from a new weighing scale.


What are our best-selling products to the logistics sector?
Over the years, we have been able to identify our best-selling products into the logistics sector. The B-250 is a highly portable tabletop bench weighing scale. With a magnetic indicator and a high capacity, this scale is highly suited to weighing small boxes and packages which contain heavy items. Our Marsden P-NA is a mild steel platform scale which has the ability to be paired with a wide range of indicators, which allows for customisation of the device to suit the users requirements. Then we have the PT-600 which is a pallet truck scale with an inbuilt printer, which allows used to weigh pallets, manoeuvre them and obtain a hard copy of the weight reading.


Which Marsden devices can be used for data transfer and printed records?
We have weighing scales available in our range that when paired with the correct indicator can either provide a hard copy of the reading via a printer, or the data can be transferred to a PC. If you require a form of data transfer, take a look at our best-selling JIK range. The JIK indicator is a sophisticated piece of weighing technology that can monitor inputs and outputs, connect ot a range of external accessories and either print or wirelessly transfer data. Alternately, we have the intelligent I-500 in our range. Designed with bespoke solutions in mind, this indicator can print and transfer data with ease, amongst a whole range of additional features.


What do you need to know before purchasing a weighing device?
The key things to remember when purchasing a new scale are, what capacity and graduation is required? Does the weighing device need to have data transfer capabilities? What is the required base size of the scale? What is the main application for the weighing scale? Does the device need to be washed down or will it be positioned in damp environments?
By answering these basic questions, you can begin to filter the Marsden range to find the correct weighing scale for your application. A member of the Marsden team would be more than happy to help you narrow down your options, based on your requirements.


Download our logistics catalogue here.
To try and make the process easier for our customers, we have collated all of our bestselling logistic weighing scales and put them in one handy and convenient brochure. Download the brochure and send the PDF onto your relevant colleagues and line managers to begin a discussion regarding implementing new and innovate weighing technology into your industry. Should you require any additional support, we would be more than accommodating to help you structure your decisions and narrow down the most suitable weighing device for your application. Click here to download our logistics catalogue.
Marsden weighing devices are highly suitable for all applications within the logistics sector. Please take some time to browse the Marsden website and see all of our standard weighing devices which are available for purchase via the website with next day delivery. Alternatively, email sales@marsdengroup.co.uk if you have bespoke requirements and our team will gladly work with you to develop a weighing solution to suit your needs.
Further Reading:
Designed to weigh palletised goods, discover how pallet scales work.
Pallet scales are essential in most industries, find out why portability can improve your efficiency.
How much does a Pallet Truck Scale Weigh?