Buyer's Guide: Stainless Steel Scales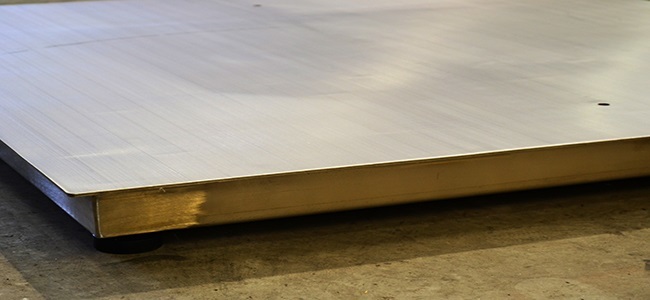 Stainless steel weighing scales are great for three reasons: They look great (and for those in the food and drink industry, they look much more hygienic than their plastic counterparts). They are much more durable and longer lasting - and able to withstand regular cleaning.
And finally, due to their IP rating (ingress protection - more on that below), they can be wash-proof right up to waterproof - perfect for damp, humid and even wet working environments.

We appreciate that talking about IP ratings and the like can be mind-boggling for the uninitiated, so in this blog post we're going to explore some of the reasons why you'd need a stainless steel weighing scale, and the solutions we can provide.



For selling items based on weight

You sell produce based on its weight - but that produce can often be wet, like freshly-caught fish, or prime cuts of beef. You've used weighing scales from leading manufacturers or suppliers for years, but you have to buy new scales every 6 or 12 months due to water ingress.

The DS-781SS Retail Scale is for you.

Marsden launched this waterproof retail scale last year, after talking to fishmongers about the weighing scales they use and finding many of them were unhappy with what was on the market - even from renowned manufacturers.

The DS-781SS has an IP rating of 68 - which means it is a waterproof scale perfect for your needs. You can get it wet, wash it down - dunk it in a bucket of water if you want - and it'll still work.

It's stainless steel, which just says 'hygienic' to your customers - and it's easy to use. Find out what one fishmonger thought to this waterproof retail scale here.



For check weighing small produce

You check-weigh items - maybe it's ingredients, or components - but the scales you use are prone to getting wet on a daily basis. You need something easy to use and with a reputation for durability.

The B-100 Bench Scale is for you.

This tough little scale is Marsden's best-selling bench scale, because it's so hardy - it's highly popular in the food industry, and where the scales used need washing down every day. Again, it's easy to use, and boasts useful functions like parts counting, Tare and hi/lo alarm (meaning you can set limits on what you want to weigh, and the B-100 will tell you when you reach either the high or low limit).

The B-100 is an IP68-rated bench scale, meaning it's waterproof. See the B-100 get dunked in a bucket of water on this page.



For damp/humid factory/warehouse environments

Your factory or warehouse is a tough environment. You need a reliable industrial weighing scale that can provide accurate weight readings, and not let you down - even when it's prone to getting wet constantly.

The HSS Floor Scale is for you.

This floor scale is made of 304 food grade stainless steel, making it the ultimate hygienic weighing solution for the food industry. With a choice of bases, the scale can be used for a variety of goods, large or small - and capacity options go right up to 150kg.

Pair it with the I-200 indicator to make an almost waterproof scale. The IP rating of this floor scale is 67 - meaning it's just one level off fully waterproof. You can still wash it down and use it in damp environments without worrying about its reliability, and the long rechargeable battery life means you don't need to worry about plugging it in to get a weight reading.



For weighing pallets, crates or drums outdoors

You need a platform scale outdoors, that'll need to brave all weather conditions - and weighing items that are wet. Our stainless steel platform scale is for you.

This stainless steel platform scale is another 304 food grade solution, so it's made for the food and drink industry. It can be used in wash-down areas and also outside - in fact, it's highly popular in food processing environments.

To this platform even more versatile, there are optional ramps, allowing you to roll pallet trucks onto the platform scale's surface. This makes it great for weighing pallets quickly and easily.

Additionally, choose this Jadever indicator for a scale with a long-life rechargeable battery, and check weighing, hi/lo alarm and full Tare functions.

An optional RS-232 interface is available, allowing you to transfer data directly to a printer, PC or another, larger weight display.

We recently provided cider maker Aspall's with a similar stainless steel platform scale to the P-SS-JIK. They use theirs to weigh apples, in a tough environment that needed a durable scale - so that gives you some idea of the popularity and capabilities of a solution like this.



This is just the tip of the iceberg of Marsden stainless steel and waterproof weighing scales - for the full range, click here, or get in touch to find out more.