Choosing the Right Scale for Your Gym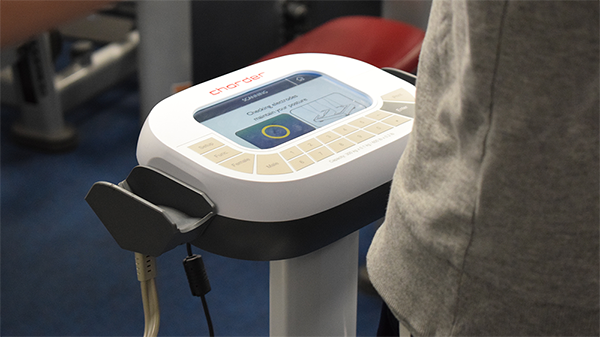 Whether you manage a gym, are a personal trainer, run a slimming group or a fitness class, it's important to choose the right scale for you. At Marsden, we offer a wide range of Class III Approved gym and fitness scales, ideal for health clubs, gyms, sports clubs and spas.

Whether your clients or gym members are on a weight loss journey, working on gaining muscle, or are training and sculpting their body, we'll help you find the right gym and fitness scale to suit their needs.
Fixed Gym Scales
A fixed gym scale is perfect for giving height measurements, weight readings and BMI calculations in minutes!
An easy to use column scale, the Marsden M-150 Gym and Fitness Scale is the most affordable gym scale we offer. It boasts a height measure, Body Mass Index calculation and can weigh in both kg or st.
It has a capacity of 300kg or 47st and is designed for use in gyms, sports centres and health clubs with a non-slip base, simple function buttons and a clear, easy to read display.
Body Composition Scales
For a more comprehensive calculation of body health and a range of metrics, you may consider choosing a body composition scale for your gym.
Our Marsden body composition scales provide weight readings, Body Mass Index (BMI), Fat Mass (FM), Fat Free Mass (FFM), Total Body Water (TBW) content, Basal Metabolic Rate (BMR) and Body Fat Percentage. Our range was also found to be closer to DEXA standards than any other body composition scales tested.
The Marsden MBF-6000 Body Composition Scale is widely used in gyms providing an overall health score as well as readings for Basal Metabolic Rate (BMR), Total Body Water (TBW), Fat Free Mass (FFM), Fat Mass (FM), Body Fat Percentage, Muscle Mass (MM), Protein Mass (PM), Extracellular Water (ECW), Intracellular Water (ICW), Skeletal Muscle (SM), Visceral Fat Area Level (VFA), Metabolic Age (AGEM), Weight and BMI.
All readings are available as a printout, making the MBF-6000 ideal for personal trainers and fitness coaches keeping track of their client's body composition and overall health.
We also offer the Charder MA601 Advanced Body Composition Analyser for gyms and fitness clubs. This user-friendly scale with touchscreen is ideal for providing detailed body health readings, including instant and advanced evaluations of weight, muscle and body health for clients and gym members.
The MA601 provides even more readings than the MBF-6000 and the MBF-6010 column scale, including Intracellular Water (ICW), Extracellular Water (ECW), Soft Lean Mass (SLM), Fat-Free Mass (FFM), Body Fat Mass (BFM), Skeletal Muscle Mass (SMM), Body Mass Index (BMI), Basal Metabolic Rate (BMR), Total Energy Expenditure (TEE), Phase Angle, Fat-free Mass Index (FFMI), Skeletal Muscle Index (SMI) and Impedance.
The scale also recommends each client some improvements they can make based on their results.
What are Class III Approved Scales?
All of our Marsden gym and fitness scales are Class III Approved, which means they have undergone a strict testing and calibration process and provide highly-accurate and reliable weight readings.
Using a Class III approved scale in your gym, such as the affordable Marsden M-550 scale, means accurate results for your clients as all weight and metric readings will be consistent with medical scales at hospitals and GP surgeries.
Choose the right Gym & Fitness Scale with Marsden
As leading UK suppliers of gym and fitness scales, our Marsden team are able to provide you with expert advice when choosing which professional scale is right for your gym.
For more information regarding any of our fixed gym scales or body composition scales, don't hesitate to call our friendly Marsden team on 01709 364296 or email sales@marsdengroup.co.uk.
Further Reading
Perfect for gaining an overall picture of body health, discover Body Composition Scales - Accuracy and Uses.
What do BIA scales tell you about body fat and muscle?
Find out all you need to know about Body Fat: What are the healthy ranges and how is it measured?