Essential features in baby weighing scales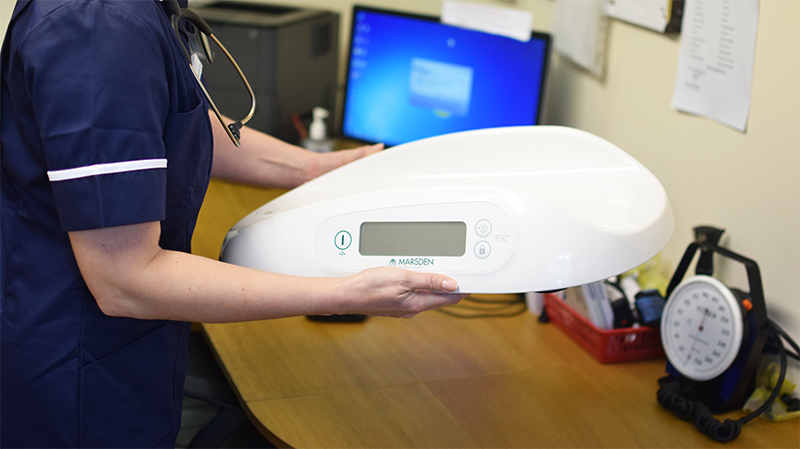 Weighing your bundle of joy is both an exciting and necessary process. As proud parents, family, and friends, we all love to know how much our babies weigh at birth and often play guessing games or make predictions during the pregnancy.

For medical professionals present at the birth, gaining an accurate weight measurement of the newborn child is a vital, initial observation that provides a starting point for the baby's growth.
Weight gain or loss can then be measured on an on-going basis to determine their health and development during their first few years. It is recommended that your baby should be weighed once a month for the first six months, and then at least every two months to make sure they are growing as expected.
An accurate weight measurement can also be vital to recognise whether a baby is underweight at birth and may be more susceptible to infections or health complications and therefore require additional care.
What Are Baby Scales?
As highly-accurate scales designed for weighing babies, Baby Scales usually have graduations of between 2g and 10g to recognise minor changes in a baby's weight as they grow and develop.
Professional Baby Scales are used in paediatric and maternity hospital wards, GP surgeries and neo-natal clinics. Midwives and health visitors also take lightweight and portable baby scales on home visits to take accurate and up-to-date weight measurements.
Features that we consider essential are:
Class III Approved
Robust & Durable
Lightweight
Accurate

Tare Function
Hold Function
Wipe-Clean Surface
Battery Operated
Class III Approved
All medical Baby Scales in the UK and EU must be Class III Approved, meaning they are built, tested, verified, and calibrated to a specific standard to assure an accurate weight reading in a medical setting.
To ensure your Baby Scale is Class III Approved, buy from a professional supplier such as Marsden. All of our professional baby weighing scales are Class III Approved; to ensure the scales you buy are Class III Approved, check for the 'M' and 'III' logos on the data plate.
Robust & Durable
As medical scales that are used often at GP practices and hospitals, or potentially taken to several home visits throughout the day, baby scales must be robust and durable to resist any damage.
Lightweight & Portable
Baby scales that are used by visiting midwives and health professionals should be lightweight and portable too so that they can be carried around and set up at different locations. However, this feature is not as essential for baby weighing scales that have a permanent home at a hospital ward, GP surgery or clinic.
Accurate to at Least 50g
According to The UK Weighing Federation (UKWF), baby scales used for making a weight measurement to go on a medical record should be accurate to at least 50g. When recording the weight of a baby at birth the scale should be accurate to 20g.
Baby scales used for regular monitoring to assess any changes in weight, or to assist in making a medical diagnosis should be accurate to 10g or 20g. When measuring weight as an indicator for critical treatment for conditions such as dialysis the scale should be accurate to 5g.
Tare Function
A Tare function allows you to subtract the weight of the baby's blanket or nappy to gain a more accurate weight reading. It is also possible to measure a baby's milk intake using the Tare function.

Hold Function
Babies are prone to moving around whilst being weighed, and it's for this reason that the Hold function is essential. Press 'Hold' whilst weighing and the weight reading will freeze on the display, meaning the reading can be recorded easily. Without the Hold function, the reading is likely to fluctuate as the baby moves on the scale making it difficult to know what their precise weight is.

Wipe-Clean Surface
An essential feature of baby scales is hygienic, so as to reduce the risk of infection. A wipe-clean surface is necessary for cleaning the scale in between use and wiping up any accidents.
Battery Operated
For community health visitors or lactation consultants, like Little Bellies Lactation, the ability to use our baby scales without a mains adaptor is essential. The battery power lets them to easily take the scale with them during home visits. In a hospital setting, our baby scales can easily be moved from room to room.
Medical Baby Scales From Marsden
As leading suppliers of professional medical scales, we offer a range of high quality, accurate baby weighing scales with all of the essential features.
Our one-piece Marsden M-300 Portable Baby Scale is designed for extreme accuracy, with 2g<6kg>5g graduations, and ease-of-use. The scale boasts Picostrain technology resulting in over 600 hours of battery life and is capable of weighing up to 18,000 times between battery changes! It's also our most popular baby scale and is used throughout the NHS.
The Marsden M-400 is another of our portable baby scale options. Class III and MDD Approved, the scale has a number of essential features including a secure and hygienic baby bowl for weighing and Bluetooth connectivity is available for transferring data.
The accurate and portable Marsden M-400-80D is lightweight yet durable with a reinforced aluminium structure and includes a height rod for digital height measure too.
Further Reading
But what are baby weighing scales use for?
The Marsden M-400 is a top of the range baby scale that is simple to use both in a professional and home environment. Find out why you should choose this scale for weighing you little one.
If you're looking for a baby scale for personal rather than medical use, take a look at our range of baby scales for home.