Download our FREE Kitten Weight Chart!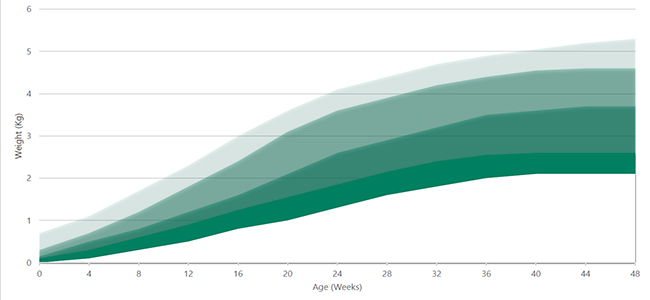 Recently, we were blown away at the success of the Marsden Puppy Weight Chart - and inspired by veterinary practices' interest in a poster to adorn their consulting room walls… We've now created the Marsden Kitten Weight Chart!


Again, we've made this free poster available to celebrate the launch of the Marsden V-22 Veterinary Scale earlier this year. The V-22 is perfect as a small animal weigher, but is capable of weighing dogs as well as cats. Watch Chewie the Chihuahua try out the V-22 in our video below:




The V-22 Veterinary Sale is designed to help you keep regular track of your pet's weight easily. It's our most portable animal weighing scale, and the removable tray can even be used as a stretcher around your practice .The V-22 Veterinary Scale is also highly accurate to the nearest 5g - and has a capacity of 20kg.

Although in the video we've demonstrated this weighing scale with a small dog, it's perfect for cats, too - and we'd love to hear from you if you're using the V-22 as a cat weighing scale. If you've got an interesting story to share we may even add it to our website!


The A3-sized Marsden Kitten Weight Chart provides the ideal weights for cats from birth to 48 weeks old, with the chart split by male and female kittens. It also gives an idea of when a kitten is overweight, and when it is underweight.


The chart will look great on your consulting room or waiting room wall, and will help keep visiting kitties the perfect weight for their age!


To download the free Marsden Kitten Weight Chart, simply click the 'Kitten Weight Chart' link at the bottom of this post, then when the poster opens in a new window, right click and save (or click the save or print icons if they appear bottom right of your screen). You can save the chart to your computer and print out A3 size.


There's a useful guide to ideal cat and kitten weight here on the PDSA website - it includes a guide to the ideal body shape of a cat (the Body Condition Score Poster) which we recommend downloading, too, and adding to your wall. Alongside the Marsden Kitten Weight Chart, of course!


You can see our full range of veterinary scales here, which covers weighing scales ideal for both cats and dogs. Get in touch to discuss your pet scale needs here.