Buyer's Guide: Telehealth Scales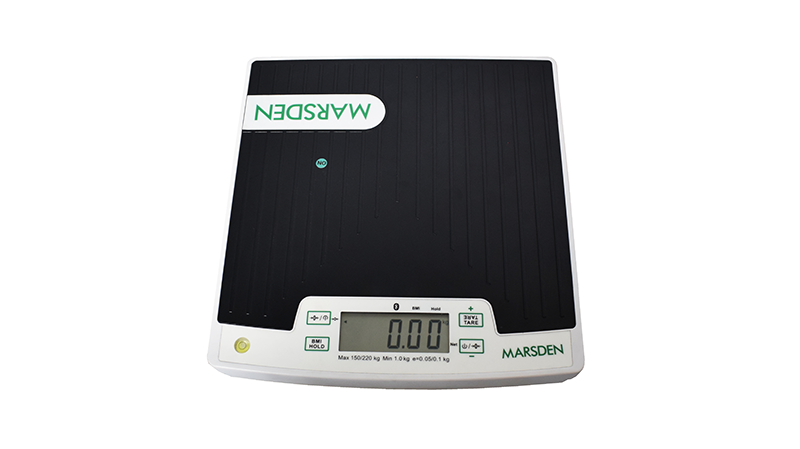 Marsden's telehealth scales allow patients to be weighed in convenient locations, including their own home – the weight information can then be transferred to a central medical database.
Weighing patients outside of hospitals also reduces the costs of medical care – and can help to ease the strain on the NHS.
Marsden's range of telehealth scales are fitted with Bluetooth technology allowing you to wirelessly send the weight, height, BMI, date and time information to a device, PC or central database. Alternatively, these scales can be ordered with a micro USB port, too. If you are planning to implement a telehealth system, we recommend consulting with a telehealth or software company so that your scales and your system are configured correctly.
Whether you are a care home, health visitor or anything in between, you can benefit from the advantages of telehealth solutions.
But which telehealth scale do you need?
This blog is here to help.
For bedbound patients
Ideal for use in care homes and by community health visitors, the Marsden M-600 hoist weighing attachment is built for weighing bedbound patients.
Carers and medical staff will find the hoist attachment is lightweight and easy to move, meaning it is easy to transport from hoist-to-hoist. Patients will find the scale well-padded and extremely comfortable.
Following the weighing, data can be transferred via Bluetooth to a connected smartphone or PC.
For patients who need to be seated
The Marsden M-200 Chair Scale is the scale of choice for patients who need to be seated – it's also ideal for bariatric patients with its large seat. Weighing via chair scale means the patient can be moved between rooms, weighed, and using Bluetooth connectivity the reading can be transferred to the patient's record.
For patients or institutions who have access to their own wheelchair, the Marsden M-610 Wheelchair Weigh Beams and Marsden M-650 Wheelchair Scale are ideal.
The M-610BT telehealth beam scales can suit most sizes of wheelchair, as the beams can be positioned the desired distance apart. Alternatively, the M-650BT is a one piece unit, which is compact, robust and easy to store. Both scales have capacities of 300kg and accuracies to 100g.
For general patient weighing in hospitals
Marsden provide two scales with a column mounted indicator for easy weight reading.
The Marsden M-110 is our lowest cost Bluetooth column scale and can measure weight and BMI. Perfect for use in medical organisations, the scale is heavy duty for years of regular use. Data can then be transferred to a central database via Bluetooth, or printed out (via optional printer) and added to paper-based records.
The Marsden M-100 has high 300kg capacity - making it suitable for weighing patients of all sizes - as well as fine graduations to 50g. A height measure is integrated with the scale for accurate height record keeping.
For portable patient weighing
All Marsden floor scales are lightweight and easy to transport – making them the perfect weighing solution for health visitors.
Marsden's most accurate floor scale, with graduations to 50g, is the M-420. As this blog post explains, this level of accuracy ensures it is suitable for measuring weight for critical treatment. The reversible display makes the reading discreet and suitable for use in environments such as schools.
The Marsden M-430 is Class III Approved, making it suitable for use in GP surgeries and health centres. It has a capacity of 220kg. Using the Bluetooth connectivity, gym and fitness club attendees can keep a record of their weight and height data by transferring data to their smartphones or tablets.
The M-510 is Marsden's highest capacity Bluetooth floor scale. With graduations to 100g it also has excellent accuracy. The scale has a separate indicator for weight sensitive areas, which can be transferred via Bluetooth or optional USB.
Read this blog post for a background on the introduction of telehealth. Find out more about the benefits of telehealth by clicking here.
For help and advice regarding telehealth systems and wireless data transfer from weighing scales, call us on 01709 364296 or contact us here.