Buyer's Guide: Waterproof Scales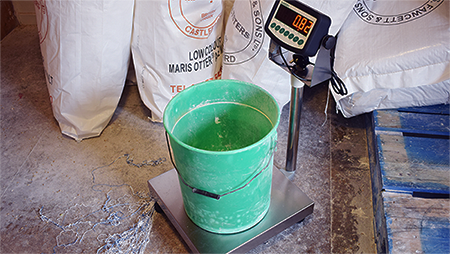 "Waterproof scales are essential for any brewer," Steve Hope of the Brew Shed told Marsden in a case study last year.
Waterproof scales are in fact, a great addition to many industries from food processing factories to retail environments.
In order to choose the correct waterproof scale, you first need to consider your weighing needs and which IP rating would be most suitable for the environment the scales are going to be used in. This blog post is here to help.

IP rating: A brief introduction
A weighing scale's IP rating refers to the level of protection it has from liquids and dust. IP68 rated scales are waterproof, and can withstand submersion in water. Scales that are IP67 rated are almost as waterproof - and can be washed down regularly - and IP65 rated scales can be wiped down regularly with a damp cloth.
We recommend that you consider the IP rating that you require, before choosing your scale. If you are still unsure, you can find more information on IP ratings here.
Waterproof scales for breweries
Waterproof scales can be used throughout your brewery. Our best-selling waterproof scale, the Marsden B-100 is ideal for breweries wanting a single scale to perform multiple weighing tasks - from small amounts of ingredients to weighing sacks of malt. A choice of capacities and graduations are available - and with an IP68 rated it can be submerged in a bucket of water and remain in perfect working order (as this shows).
When it comes to weighing out-going casks or the largest bags of malt, the AGT-C is the perfect fit. It's IP68 rated, robust and is available with a choice of capacities and graduations. On the AGT-C, Hester Boyce from Wild Beer Co said: "We'd heard good things about the AGT-C so bought two for weighing kegs as we fill them."
The HSS is suitable as an alternative.
For weighing front of shop
The Digi DS-781SS is perfect for weighing goods front of shop - this Trade Approved stainless steel retail scale can store weight and price information for 99 items.
As this scale has an IP68 rating it is ideal for wet and humid environments and it can withstand years of regular washing. This stainless steel retail scale has proven highly popular with fishmongers and butchers. Because it is battery powered this retail scale has become particularly popular on market stalls, including the punishing environments of fish and meat markets.
Find out more about the waterproof capability of the DS-781SS in this video.
For weighing outgoing goods
When it comes to dispatching goods from your factory or warehouse, we have a choice of options suitable for you.
The Marsden Stainless Steel Platform Scale is a large, robust platform which is well suited to heavy duty weighing. The scale is highly accurate, to 200g. Alternatively, if you need to easily load the scale from a pallet truck, the Marsden Drive Thru Scale is ideal - with a ramp on either the side the pallet truck can be rolled onto the scale.
U Frame scales share many of the same qualities of a platform scale, but it is also fitted with a handle and wheels so can be easily maneuvered to wherever it is required. Weigh Beams are also highly portable, and can be positioned any distance apart to weigh goods of any size. The waterproof PT-400 Stainless Steel Pallet Truck scale saves time as it means goods can be weighed and transported by the same device.
For more information on any of our waterproof scales, call 01709 364296 or contact us here.