Increasing output and reducing costs in the food industry (Guide)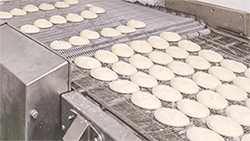 Weighing scales are used at various stages of the food production process. From weighing raw materials to checking goods as they go out the door, Marsden has a range of scales suitable for food processing plants and the food industry.
Drawing on our experience of supplying weighing scales to the food industry, we've put together a new free guide.
To find out why you should be weighing at every step - and the scales that should be used - download Increasing outputs and reducing costs: A guide to weighing in the food industry below.

What do you need to know first?
Before getting started, it's important to know the law on packaged weights. The weight reading must be visible on the outer packaging of the product - and an Approved scale must have been used to confirm this weight, when the goods' price is dependent on it.
Hygiene is paramount in food processing environments, so it is worthwhile reading about the hygiene benefits of choosing a stainless steel scale here. According to Christina Herbert of Macsorsons Fishmongers, "customers associate stainless steel with being clean and hygienic."
By reading this blog post on IP ratings, you can also work out which waterproof solution is right for you.
Weighing raw materials
As no amount of mechanical processing can make up for any deficiencies in nutrients, it is vital that raw materials are weighed accurately.
An incorrect portion balance can result in poorer quality produce and unsatisfied customers.
For weighing raw materials we have a range of scales suitable, such as the stainless steel HSS and the B-100 Bench Scale. Or for automated ingredients weighing and recipe formulation our stainless steel platform scale is a capable solution.
Weighing outgoing goods
At the end of the process, goods are weighed to ensure they are safe to transport and that invoicing is correct.
A heavy duty, robust scale is ideal to withstand regular weighing of large goods - making a platform, u-frame, drive thru, weigh beam or pit mounted scale most suitable.
Choose our platform scale with the I-100-APP indicator to create a heavy duty, Trade Approved platform scale with a choice of capacities and graduations. Alternatively, our pit mounted scales are the perfect solution for weighing heavy goods when you are short on space.

To browse our full range of industrial scales click here. For more information on any of our scales, call 01709 364296 or contact us here.