Buyer's Guide: Care Home Scales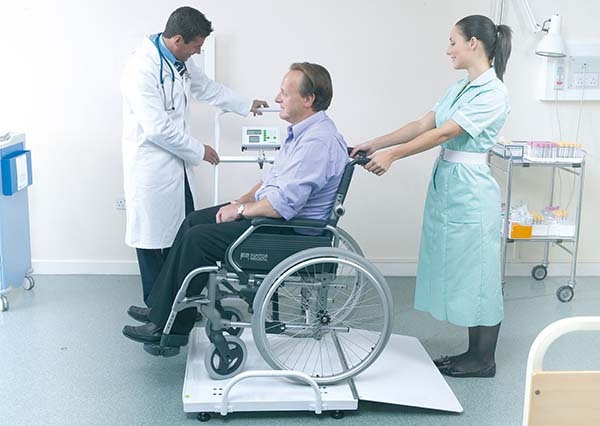 Most care homes will find no two guests are the same. And the more varied their level of mobility, the greater the need for different weighing solutions.
Over the years, Marsden has developed a range of Class III Approved care home scales that allow almost any care home guest to be weighed.

From those that are bed-bound, to patients who need a higher-capacity weighing scale, we have a medical scale suitable for everyone.
In this blog post, we provide guidance in identifying needs - and then choosing the best care home scales to suit.
For patients steady on their feet
For guests who are able to stand without the need for support, a traditional floor scale can be used.
The Marsden M-545 Floor Scale is a good all-rounder and a perfect stand-on weighing scale for care homes. The scale has a high 250kg capacity and accuracies to 100g – making it significantly more accurate than the mechanical equivalent. It's also Class III Approved, which means it's suitable for use in medical environments, and, therefore, far more reliable and trustworthy than cheap bathroom scales.
As the weight data may be sensitive, the remote display means it can be positioned so only the operator can see the reading.
The Marsden M-550 should also be considered. It has a wider weighing platform which is perfect for weighing unsteady patients, plus. An be used to calculate a patient's BMI. It's already trusted by GPs across the country and would make a great addition to a care home.
For patients who are unable to stand
For patients who need or wish to be seated during the weighing process, a number of options are available.
Guests may prefer to be weighed in their own wheelchairs, and if this is the case the Marsden M-610 and Marsden M-650 are ideal weighing bases which the wheelchair can be wheeled on to. The weight of the chair can then be tared away, leaving just the weight of the patient showing on the indicator.
The M-650 is a high capacity platform scale. This compact one-piece unit has a gentle ramp for easy access for wheelchairs. The wheelchair scale has a capacity of 300kg and graduations to 100g.
This scale is an ideal permanent solution so there is always somewhere to quickly and easily weigh wheelchair-bound patients; however with wheels and a handle it can be stored away if needed. It's a modular weighing solution so you can tailor it to your needs; add an indicator column, or one or two handrails to the scale.
The Marsden M-610 consists of wheelchair weigh beams, which are lightweight and portable, meaning the patient can stay in their room to be weighed.
As well as being portable, beams have the added benefit of allowing you to place them the desired distance apart, makings them suitable for wheelchairs of any width. Optional carry cases will allow you to use this wheelchair scale anyway in or out of the care home, or for example weighing assisted living patients.
Alternatively, there are a number of wheelchairs available with a built-in scale.
The Marsden M-200 is a premium-quality, high capacity chair scale. This scale has a super-sized seat making it ideal for larger patients and with accuracy to 50g it delivers pinpoint weighing for patients of all sizes.
The classic designed Marsden M-210 is Marsden's best selling chair scale also has accuracy to 50g. It is lightweight, portable and has hinged armrests and footrests for additional patient comfort.
For bed-bound guests
For guests who are restricted to their beds, the weighing options available are hoist weighers and bed weighers.
The Marsden M-600 and M-605 are hoist weighing attachments which can be easily clipped onto a hoist. The Marsden M-600 and Marsden M-605 are MDD Approved making them the only hoist weighing attachments that are legal for use in the UK.
Alternatively, the innovative Marsden M-950 is a bed weigher consisting of four low profile pads.simply place the four pads next to the wheels of the bed, roll the bed onto the pads and get your weight reading. The Preset Tare function can be set to automatically remove the weight of the bed, meaning the patient can stay in the bed whilst the scale provides an accurate reading of their weight.
The scale can be easily wheeled around the care home as it can be purchased with a trolley for the pads. If the care home needs a portable bed weigher but would prefer not to have a trolley, the pads can be purchased with carry cases instead.
For more information, you can call the Marsden team on 01709 36296 or contact us here with your questions.